Virtual experience hosted by Roman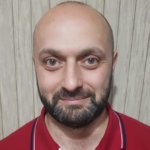 Join Roman as he takes you on a journey through the history of his hometown, Pyatigorsk, from Russian Empire days to the Soviet Union to the 21st century. Pyatigorsk has a fascinating history, built around the local mineral waters with their healing and medicinal properties. Roman will "tour" you through some of the local "sanatoriums", or health resorts, that were so popular to take vacations to in the Soviet Union. Replete with hilarious childhood stories and a unique local perspective, you're sure to enjoy your time with Roman!
Interested in scheduling a private "virtual Soviet vacation" in Pyatigorsk? Inquire now for custom dates, team-building options, corporate events, school field trips, and more. Private tours starting at $100.
All tour times are specific to your time zone!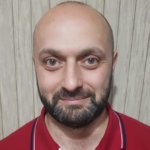 Hi!  My name is Roman, and I was born and raised in Pyatigorsk.  I'm an English language teacher by trade but my passion is guiding people around my beautiful city and the nearby Caucasus Mountains.  Our city has a unique place in Russian history with its local mineral waters and becoming a "destination" for vacationers during the Soviet Union.  I hope you'll join me in experiencing what makes Pyatigorsk such a great place to live, quirks and all!
Pete
Michigan, USA - February 2021
I think Roman is a great presenter and will be popular amongst further groups. I enjoyed the unique traits and attractions of the area the most. Especially the clinics that he highlighted where they specialize in holistic healing and water treatments. There was good content from a historical standpoint and plenty of humor involved as well.
Marty
Tennessee, USA - March 2021
Our group of five couples loved visiting the historic city of Pyatigorsk, a place most likely none of us would be able to see in our lifetime. We found it fascinating that the government encouraged its people to travel to the region for health treatments at no cost! Of course, Roman added entertaining images and commentary on various treatments people received. You can tell Roman loves his city and is proud of its rich heritage. We all highly recommend this virtual, shared experience with friends and family. Visiting Pyatigorsk through our friend Roman's eyes will give you a new perspective of our beautiful planet.
Cancellation policy
Any experience can be canceled and fully refunded within 24 hours of purchase, or at least 7 days before the experience starts.

Learn More >
Guest requirements
You'll need an internet connection and the ability to stream audio and video to participate. A link and details on how to join will be included in your booking confirmation email.
Show More >
Experience Russia Virtually from the comfort of your home!