ARMENIA &

GEORGIA ADVENTURE
Armenia &
Georgia Adventure
EXPERIENCE ARMENIAN & GEORGIAN CULTURE :: 13 days / 12 nights:: 3, 4, & 5 Star Options Available
DAY 1: ARRIVAL IN YEREVAN
Welcome to Yerevan! An Englishspeaking guide will meet you at the airport and get you settled safely into your hotel. It may be late evening or middle-of-thenight when you arrive in Yerevan, but we hope you're able to start working through jet-lag and will be ready for your Caucasus adventure starting tomorrow morning! 
Your Caucasus adventure begins in full this morning! Like any big city, Yerevan has much to see and do (in and around the city), so we'll be sure to fill your time up with things that interest you. Yerevan may have the best archives & collections of historical documents & objects in the wider Caucasus region, including: the Matenaradan (world's largest collection of ancient Armenian manuscripts, dating back to the 7th century) and the History Museum of Armenia. There are multiple UNESCO sites in the city, and there's also an option to visit the house of local Armenian musicians, who make and play the traditional "duduk" instrument. You'll do a music master-class in this home and learn the various sounds & instruments native to traditional Armenian music. Late afternoon you'll visit two of Armenia's most historic cathedrals, 4th-century Etchmiadzin and the ruins of 7th-century Zvartnots. With Yerevan's majestic view of Mt. Ararat overlooking the city, it's really an incredible place to spend a few days.
DAY 3: YEREVAN, GARDI, GEGHARD
We won't rush you out of Yerevan just yet as there is CAUCASUS QUEST TOURS :: WWW.CAUCASUSQUEST.COM ARMENIA & GEORGIA ADVENTURE TOUR Private Tour: ARMENIA & GEORGIA 13 DAYS / 12 NIGHTS :: 3/4/5-STAR AVAILABLE much to see and do in this region. Geghard Monastery is a must-see, another UNESCO site. Not far from Geghard Monastery is the unique Garni Temple, the only pre-Christian structure (1st century!) in Armenia and the only Greco-Roman colonnaded building to be found in the entire former Soviet Union! Lunch will be a treat today as you learn how to bake Armenian lavash (bread) yourselves. You'll visit one of Armenia's most famous natural sites, the "Symphony of Stones" in Garni Gorge, which is an amazing rock cliff of basalt columns, resembling a huge organ with endless pipes. Enjoy your final evening in Yerevan at one of its countless restaurants with authentic Armenian cuisine. 
DAY 4: MT ARARAT, KHOR VIRAP, ARENI CAVE, ORBELIANI CARAVANSERAI, NORATUS CEMETERY, SELIM MOUNTAIN PASS, LAKE SEVAN, DILIJAN
Say goodbye to Yerevan this morning as you shake off the final effects of jet lag and start the "road-tripping" portion of your Caucasus tour; today you'll take in a whirlwind of historical sites and diverse beautiful landscapes. You'll start by heading south towards Armenia's southern border with Turkey & Iran, for your first chance to see Mt. Ararat "up close." The views of Ararat are stunning from the monastery Khor Virap, considered one of the most sacred sites to the Armenian population. You'll also stop in at the Areni Cave, only discovered in 2007, astoundingly reputed to the world's oldest winery dating back 6100 years! As often happens in the Caucasus, you'll keep going "back" in history along your drive, as you explore the Noratus Cemetery, a 10th century cemetery famous for its many khachkars unique to medieval Armenian Christian art. You'll make a stop at Orbeliani Caravanserai, a 14th-century stop for travelers along the Silk Road, cross the Selim Mountain Pass, and enjoy a scenic drive along the southern edge of Lake Sevan, the largest lake in the wider Caucasus region, before finishing the day in quaint, mountainous Dilijan. 
Dilijan is known as the "Armenian Switzerland", and is a beautiful resort town just north of Lake Sevan; definitely falls into the category of "charming town," and a great place for an overnight. It's your final full day in Armenia, so we'll make sure it's a good one. You'll head west to Gyumri around lunch and you'll tour Armenia's 2nd largest city in the afternoon. Gyumri is famous for its unique architecture, and infamous for the 1988 earthquake that devastated the city; both of these things are evident as you make your way around the city. Enjoy some Armenian food tonight as tomorrow you're heading to Georgia!
DAY 6: GYUMRI, GEORGIA, VARDZIA, AKHALTSIKHE
We hope you enjoyed your time in Armenia!  Your guide will give you a quick city tour this morning of Gyumri, Armenia's 2nd-largest city, you'll grab lunch, and then cross the border, where your Georgian guide is waiting to give you a fantastic Georgia experience.  Your first stop in Georgia will be its epic cave monasteries of Vardzia, dating back to the 12th century.  Georgia has several cave cities/monasteries, a quite unique distinction of Georgian history in the wider Caucasus region.  You'll spend the night in Akhaltsikhe at the foothills of the lesser-known Trialeti Mountain Range, and enjoy the treat of dinner with a local Georgian family tonight!   You've got a week ahead of you to explore fascinating Georgia, so rest up tonight!
DAY 7: BORJOMI, GORI, UPLISTSIKHE, KAZBEGI
Today will be a long day of driving but we assure you, you will experience a lot!  You'll head east through the Trialeti Mountain Range with a quick stop in Borjomi, not well-known in the  West but famous throughout the former Soviet Union for its mineral waters. Next, you'll arrive to Gori, the birthplace of Joseph Stalin with quite interesting relics from his life and that not-too-long-ago historic era.  Late afternoon, you'll begin winding your way up the beautiful,  Georgian military highway, which served as a key transport route through the mountains esp. in the 19th and 20th centuries w/ the Russian Empire & Soviet Union.  On your way to Kazbegi, you'll visit the 15th-century Ananuri Fortress Complex, which sits on the beautiful Zhinvali Lake.  Not long after Ananuri Fortress is Gudauri, Georgia's most popular ski resort, and one of Europe's hidden gems being discovered more and more each year.  Weather-permitting, there are some incredible panoramic scenes of the Caucasus Mountain range in Gudauri, before descending for your next two overnights into scenic Stepantsminda/Kazbegi. 
If you liked the view of Mt. Ararat in Armenia, you're sure to appreciate majestic Mt. Kazbek, which towers above the surrounding peaks at 5,054 meters (16,581 feet).  Your visit to Gergeti Church above the village Stepantsminda is sure to be seared in your memory as one of the most beautiful places you've ever visited, with the Caucasus mountain range surrounding you on all sides.  The Military Highway goes all the way to the Russian border (just 15 minutes from your hotel) and really helps you envision the conditions that people used to travel in.  Besides Gergeti Church with its stunning surrounding views, you can visit beautiful Dariali Gorge as well as Zakagori Fortress in Trust Valley, right on the border with South Ossetia, and there are chances to do some horseback riding in Stepantsminda as well.  Yesterday and today have the potential to be some of your best photography opportunities! 
DAY 9: MTSKHETA & KAKHETI
Now that you've experienced the Central part of Georgia, today you'll head to the Eastern part of this beautiful country as you creep closer to the bustling capital Tbilisi each day.  First you'll spend time in Mtskheta, which some call the spiritual center of Georgia with its historic churches and monasteries' role in the country's history (multiple UNESCO sites).  After dipping back down to the foothills of Georgia, you'll drive over the Gombori Pass to Telavi in the Kakheti region, i.e. Georgia's wine country.  Telavi has an incredible view of the Caucasus Mountain range.  Most visitors to Georgia rave about the local food, so we would be remiss to not mention the incredible Georgian cuisine you'll be enjoying on your trip: cheese bread (khachapuri), meat dumplings (khinkali), soup (kharcho), and so much more!
DAY 10: TELAVI, ALAVERDI CATHEDRAL, GREMI FORTRESS, TSINANDALI PALACE
Today you'll explore Georgia's beautiful wine country, Kakheti.  As you'll find out very quickly, there is so much more to Kakheti than just wine.  With visits to Telavi's Old town, 6th-century Alaverdi Cathedral, 15th-century Gremi Fortress, Tsinandali Palace, and more, photo opportunities will be plentiful exploring the scenic landscape of Kakheti.  You'll also have a relaxing lunch at Gvirebi Winery along the way, where they'll give you a tour and walk you through the wine-making process.
DAY 11: SIGNAGHI, DAVID GAREJA MONASTERIES, TBILISI
It's your final day in the mountains and foothills of Georgia, and boy will it be a full one with a smattering of landscapes, culminating in Tbilisi, Georgia's capital city.  You'll start by visiting Signaghi with its spectacular view of the Caucasus Mountain range, as well as the Nunnery of Bodbe, where Nino was buried, who brought Christianity to Georgia in the 4th century.  Then this afternoon you'll detour to Georgia's less-explored SE region, to David Gareja Monasteries, a set of monasteries, homes, and refuge carved & built into rock starting in the 6th-century by a group of monks.  The preservation of these structures is quite impressive and their location in the surrounding "Rainbow Hills" is very picturesque.  The Monasteries sit right on the border with Azerbaijan and it's one of the most "desert-like" environments in Georgia.  After five days of lots of driving, you may be excited to finally enter the big city of Tbilisi tonight (i.e. finally no more driving! 🙂 ), or you may be sad to leave Georgia's incredible mountain landscapes behind.  Tbilisi is a fantastic place to finish your Georgia tour on, so make sure to maximize every minute of your time in this bustling capital city!
Welcome to Tbilisi!  In recent years, Tbilisi is enjoying lots of positive press as one of the coolest cities in Eastern Europe, or the "New East", as some call this part of the world.  Enjoy your day here to the fullest with a guided city tour visiting some of Tbilisi's most iconic spots: ancient churches, historic baths/saunas, the Jewish synagogue, an Old City that rivals any of Europe's oldest cities, and more.  The Georgian National Museum as well as Museum of Soviet History are both very interesting stops.  Tbilisi has something for everyone, so you're sure to be charmed in your time there.  The city is quite hilly and so many of the views from restaurants are very memorable.  You'll end your trip on a high note with a dinner of Georgian cuisine & a folklore dance/music concert.   
Your whirlwind Caucasus tour comes to an end today.  You'll be transferred to Tbilisi's  international airport for the first of your flights home.  Thanks for visiting and experiencing just a drop of what the Caucasus has to offer! We hope to see you again, possibly exploring more of the western side of Georgia towards the Black Sea & Svaneti, or even more exotic, heading up Tusheti's windy roads in NE Georgia.  Nakhvamdis! (Goodbye in Georgian)
Talk to a Georgia expert today:
Easy & Smooth Planning Process!
4 Steps to Your Perfect Trip:
What you'll experience on "Armenia & Georgia Adventure" tour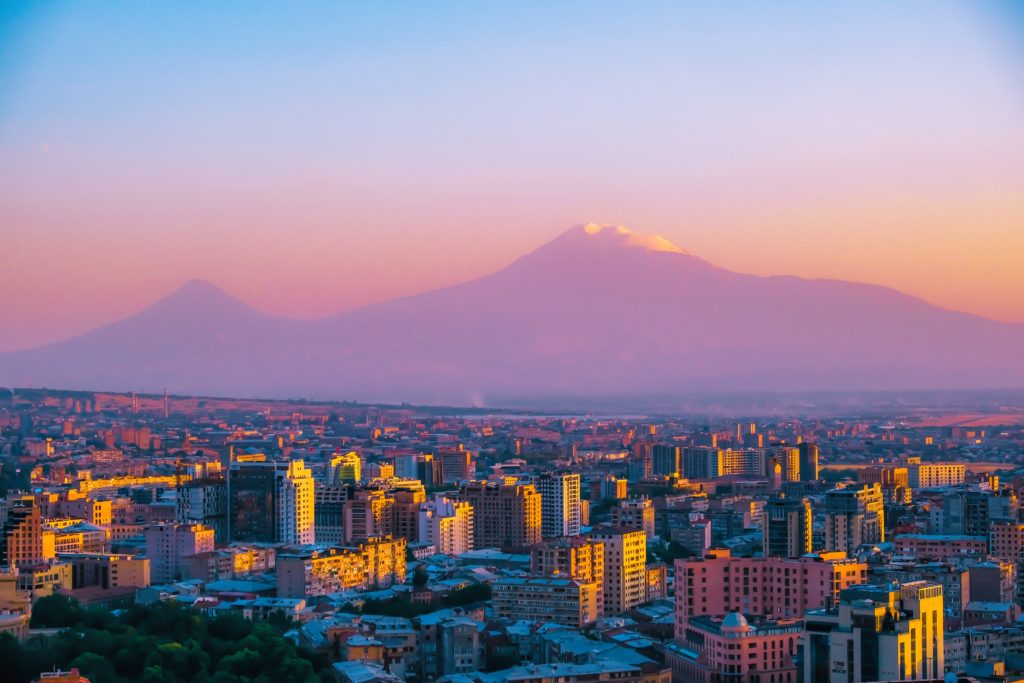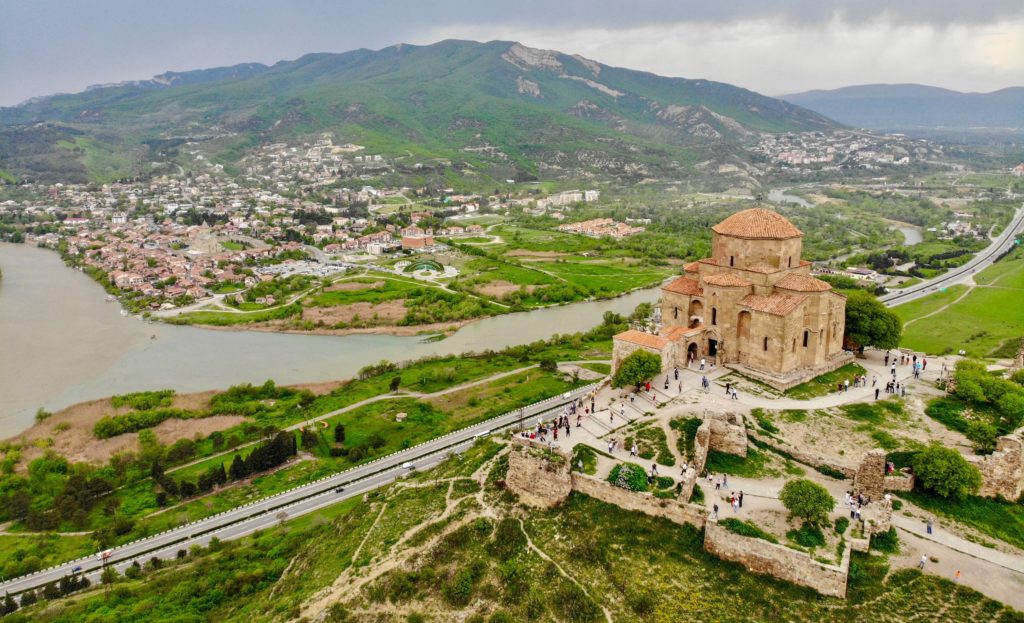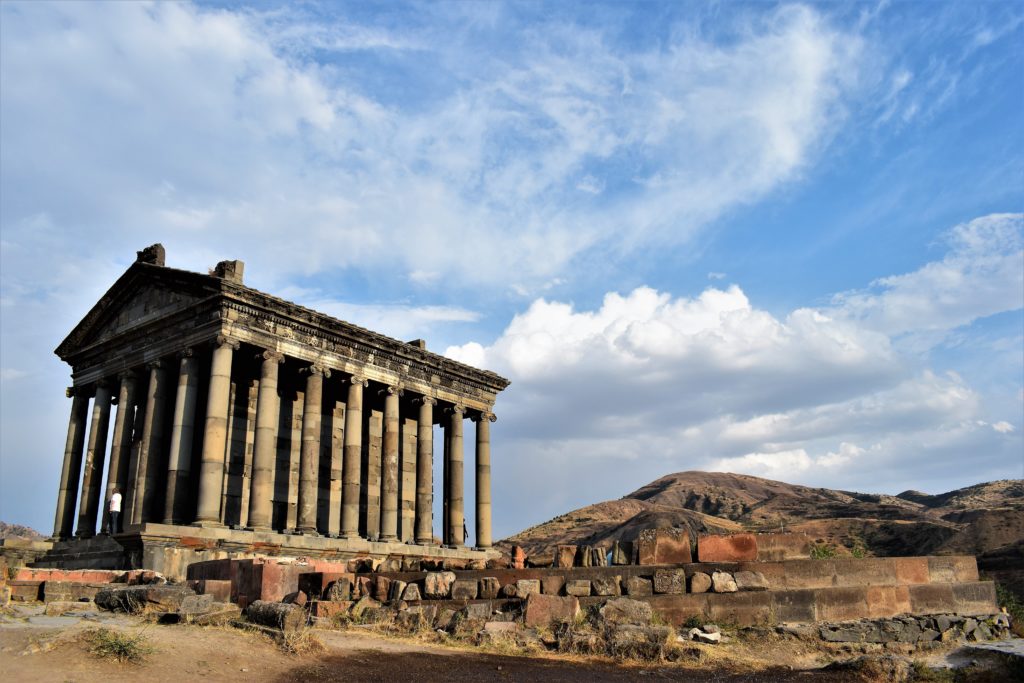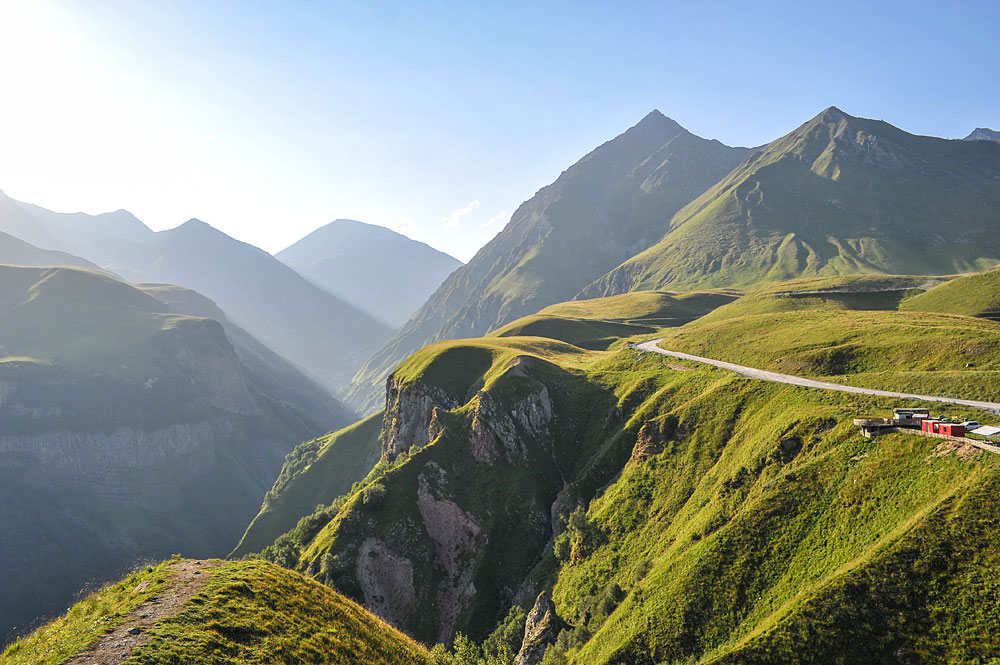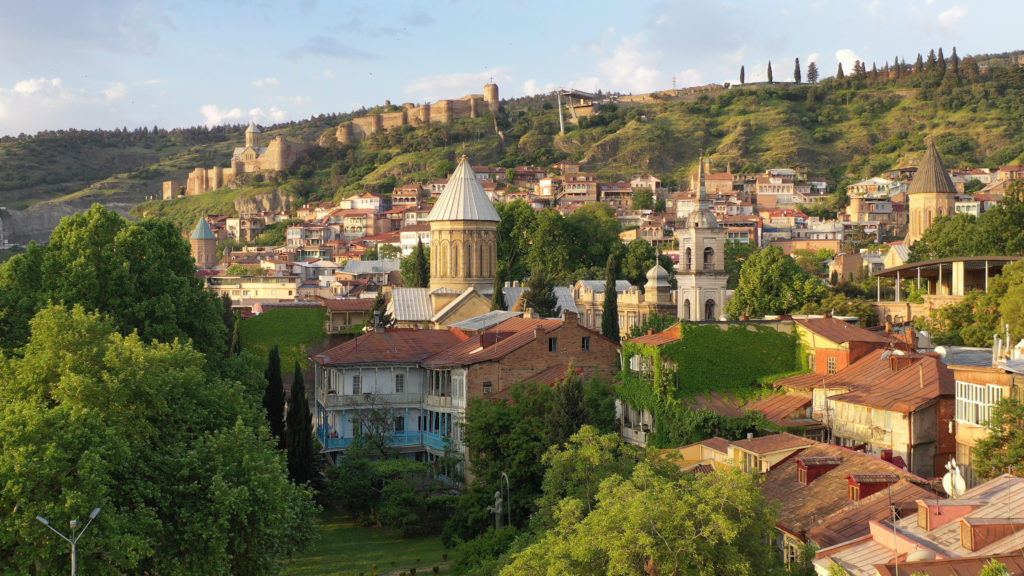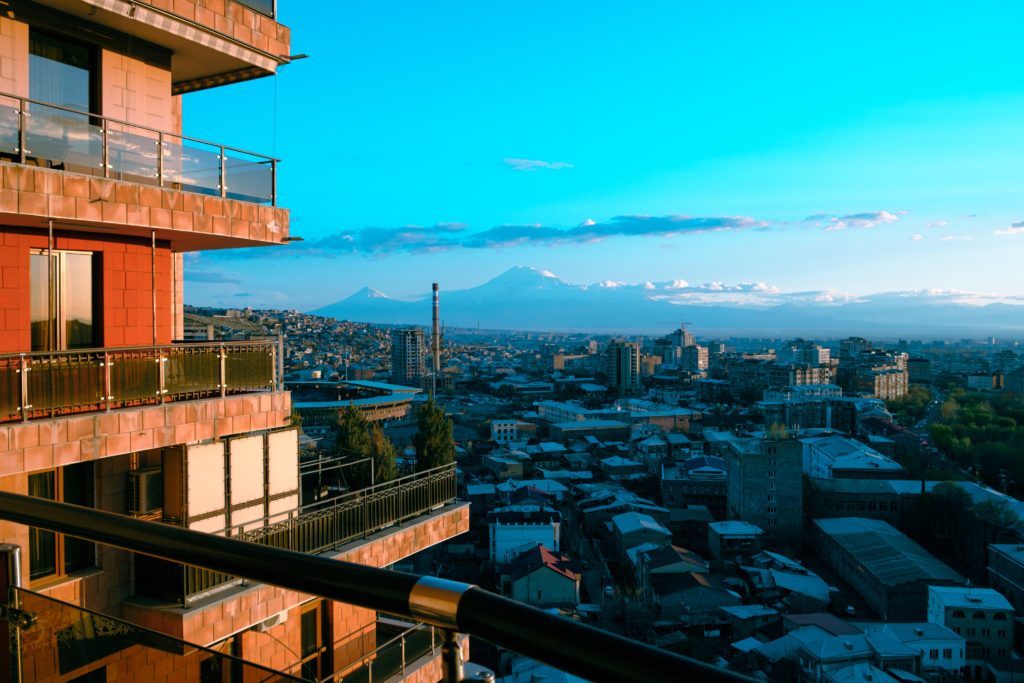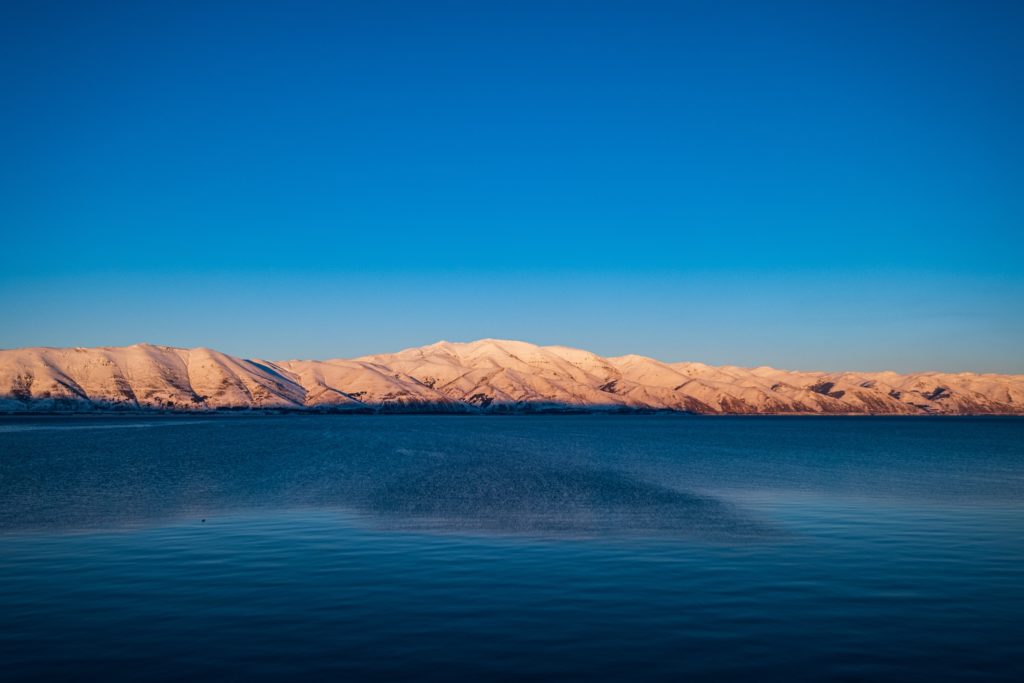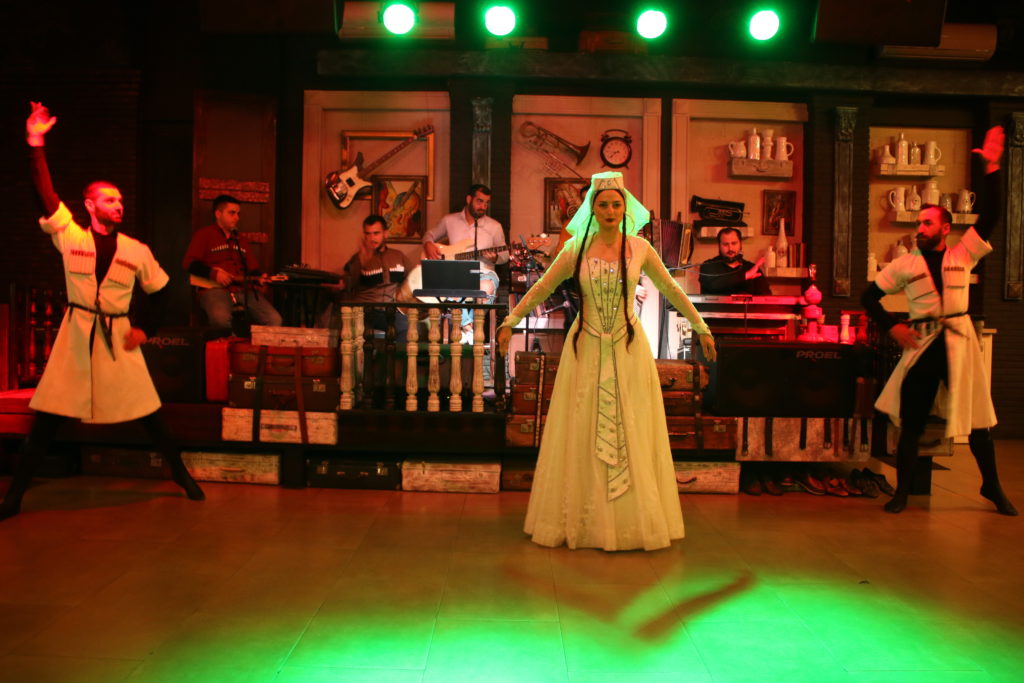 ARMENIA & GEORGIA ADVENTURE PRICING
| Tour Level | 2 People | 3-4 People | 5-6 People |
| --- | --- | --- | --- |
| | | | |
| | | | |
| | | | |
*As a US based company, all prices are in US Dollars, per person. We accept payment in US dollars at the exchange rate in affect at the time of payment. Refer to our Payment Options document for further details on various methods of payment.
*For single rooms, a single supplement fee will be applied.
*Contact us for larger group pricing.
NEXT STEP → Start planning your Caucasus tour now. A specialist will get in touch shortly: