Virtual experience hosted by Marta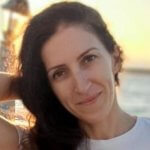 What is the City of the Dead? Why are Ossetian pies so irresistible? How can a place as small and unknown as Ossetia produce so many heroes? 
In this virtual tour, Marta makes you feel like she's taking your hand and leading you through the ancient legends, beautiful landscapes and fascinating culture of Ossetia. Become a guest at a traditional Ossetian wedding. Stand watching with a crowd in a city square as a group of young people spontaneously perform their national dance. Listen to stories of of WWII heroes and the Beslan school tragedy. Marta's love and pride of her homeland shine bright in this intriguing cultural tour. 
Interested in scheduling a private virtual tour of Ossetia?  Inquire now for custom dates, team-building options, corporate events, school field trips, and more. Private tours starting at $100
All tour times are specific to your time zone!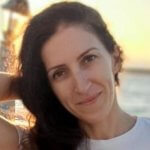 Hi, my name is Marta and I can't wait to host you in the heart of the Great Caucasian Mountains in my native Ossetia! I'm a travel guide and a professor at a local university. I love introducing people to the culture and beauty of North Ossetia and hope that after the virtual tour you will want to  "taste" my small motherland in person!
Amy
Ohio, USA - October 2021
I really enjoyed this live online tour of North Ossetia! The small group size allowed all of us to ask questions and participate, and our guide Marta was great. She showed us beautiful pictures and videos not just of the country, but of her life...her cousin's wedding, the road leading to Georgia (with her house in the view), even a few seconds of her mother giving advice to the new bride. Unlike a recorded tour, this felt personal and genuine. It was absolutely fascinating to learn about this little-known republic from someone who is clearly so proud of her heritage there. Marta's English is excellent and she is very easy to understand (and has a lovely accent). It was really interesting to learn about the culture, the battles that shaped this area, and of course, the famous Ossetian pies! Anyways, I highly recommend taking this virtual tour with a group of friends for a fun and unusual experience!
Amber
Russia - October 2021
Marta's tour was great! I was engaged the whole time, and I really liked how it flowed naturally from topic to topic, not spending too much time on one subject. I loved the pictures and music, and feel I was really able to get a good grasp of what both North Ossetian culture and people are like. Throughout the tour I could send the love and pride Marta has for her home. It's such a unique and beautiful place!
Cancellation policy
Any experience can be canceled and fully refunded within 24 hours of purchase, or at least 7 days before the experience starts.

Learn More >
Guest requirements
You'll need an internet connection and the ability to stream audio and video to participate. A link and details on how to join will be included in your booking confirmation email.
Show More >
Experience Russia Virtually from the comfort of your home!