Climb Elbrus & the Caucasus
Climb One of The 7 Summits & Explore the Caucasus! – 13 Days / 12 Nights –
Summit Europe's highest peak and explore ancient Caucasus cultures and history.
DAY 1: ARRIVAL TO NORTH CAUCASUS
After flying into the Caucasus Mineral Waters airport (MRV), settle in for the scenic, 3-hr. drive to Mt. Elbrus, the highest mountain in Europe. Your guide will brief you on the history of the Balkar people along the way, among whom you will be spending the next week. Once you have completed the breathtaking drive to Mt. Elbrus, check into your hotel and enjoy some free time to explore the area and take in the views around you. Don't blink, because you will have risen 7,000 feet above sea level on this 3-hour drive without even noticing! You will meet with your guide tonight and go over the plan for the next 6 days, and a successful Elbrus ascent!

DAY 2: ACCLIMATIZATION HIKE
Your acclimatization to the Caucasus Mountain heights starts today! Most of today is focused on preparing for your Elbrus ascent. Cheget is a neighboring mountain to Elbrus with a beautiful view, if the weather allows. As you spend several hours hiking up Cheget, getting your body used to the elevation and conditions, you will realize why the Caucasus is such a coveted destination. After a tasty lunch on the mountain, all gear will be double-checked (and rented as necessary), for your upcoming ascent. Rest up tonight, as tomorrow you are moving up to 14,000 feet, base camp!
Today you get to meet Mt. Elbrus up close and personal. You'll take the famous cable car system up three levels to the climbers' base camp. This will be your home the next 4 days for your Elbrus ascent. As riveting as you'll find Elbrus itself is, maybe even more so is the surrounding Caucasus range, stretching into Georgia and beyond. Once your things are settled in one of the infamous "barrel huts" for lodging, you'll do another brief acclimatization climb combined with some ice climbing/training. Your body will continue to adjust today, as the elevation has doubled, not to mention the significantly colder weather (there is snow here at base camp year-round). Your mountain guide will daily be walking you through practical precautions for summiting Elbrus safely and successfully. Your private cook on Elbrus will make sure you are getting the nourishment your body needs.
DAY 4: ACCLIMATIZATION / TRAINING
During your second day on the mountain you'll get a good feel for the Ascent day route, as you do an acclimatization/practice climb up to the Pastukhov Rocks, around 16,500 feet. Spend some time getting used to the gear you'll be using with some ice axe training. If you have a chance today, make sure to check out Elbrus's infamous "World's worst outhouse"; now you can mark that off your bucket list. 
Wake up with excitement today, as it's your final day before your Elbrus ascent. Today is a day to rest up before the big summit attempt tomorrow and to allow your body one more day to adjust to the altitude. Get to know some of the other climbers on the mountain, play some board games or just get extra sleep. If there are more than 3 people in your group, you'll meet your second summit guide today, who will team with you and your guide on your ascent tomorrow. Turn in to bed early after dinner, as an early wake-up call awaits!

It's Summit Day! You've got an 8-12 hour ascent ahead of you, and so will start your climb in the dark between 2:00-3:00 am. Team is a beautiful thing as you work together with your group up the mountain. The early morning hours of your climb is quite the sight with a long line of climbers ascending Elbrus, lit up by a highway of head lamps. You may never have experienced quite the sunrise as you do on your ascent, as you leave the rest of the Caucasus range behind on the way to Elbrus's gentle summit. Your climb won't be easy by any stretch of the imagination, with altitude sickness, extreme cold temperatures, and unpredictable weather all real possibilities, but it will all be worth it when you reach the top. Once you have a quick celebration of your success, prepare for your 3-4 hour descent back to base camp. Gather your things and jump on the cable car to head back down to Cheget. Dinner will have never tasted better than it does tonight.
DAY 7: RESERVE / REST DAY
Rest day! You've earned it. Sleep in as long as you want. Today you'll want to peruse the charming local souvenir markets, full of tempting local goods, including Caucasus Papakha hats, beautiful hand-knit slippers, shawls, and tasty local jams. Or if you're up for it, go on a local horseback excursion, see a beautiful waterfall, or try out a 4-wheeler on the local trails. Enjoy re-living and re-telling your Elbrus ascent with your fellow climbers and guides at your celebration dinner tonight. In case there was inclement weather on Day 6 (yesterday's planned ascent), today will be your summit day up Elbrus.
DAY 8: VLADIKAVKAZ, NORTH OSSETIA
Say goodbye to the beautiful Elbrus region and head deeper into the North Caucasus today. As you reflect on all the spectacular beauty you saw at Mt. Elbrus, prepare yourself for even more surprises as you pull into Vladikavkaz, North Ossetia after lunchtime. Just 30 minutes from the border with Georgia, Vladikavkaz is one of the largest cities in the North Caucasus and is rich with culture/history you'll be sure to "feel" as you tour this old city. Vladikavkaz's diverse ethnic make-up will become clear quickly, as you pass different churches (Russian and Armenian) and mosques (Sunni and Shia) along the way.

DAY 9: INGUSHETIA MOUNTAINS
This morning's drive may feel like you are going back in time, into a land that you didn't know still existed today. Welcome to Ingushetia, the land of the Towers. Up into the early 20th century, many Ingush families lived for centuries in their families' complexes of towers, which dot the landscape as far as the eye can see. Although uninhabited today, these tower complexes remain standing all over Ingushetia, turning an already beautiful land into something magical. Today you will explore Ingushetia's hidden world of towers in this beautiful corner of the North Caucasus. Some of the more famous complexes that you'll see up close include Erzi and Egikal, a huge city of tower ruins and mausoleums. The tower complexes alone are enough to wow you, but combined with the stunning mountain landscapes on all sides, you will be floored by the scenery of Ingushetia today. Be sure to stop by the "Legend of the Mountains" cafe in the mountains to taste some authentic Caucasus "shashlik" (lamb kabobs) for lunch or dinner.
DAY 10: INGUSHETIA MOUNTAINS
Today you will spend the day exploring more of Ingushetia's untamed mountain landscape, visiting ancient sites along the way. One of the oldest churches in the Caucasus is located in Ingushetia, over 700 years old. For those with a camera and photographic eye, these two days in Ingushetia will be sure to capture your imagination as one of the world's most beautiful hidden regions. By now, you are probably also starting to grasp the diverse cultural and linguistic richness that inhabits the tiny North Caucasus: Balkars, Ossetians, Ingush, Russians, and many more. On your way back to the lowlands, you'll drive through the picturesque Assa Gorge, surrounding by towering rock faces surely to take your breath away. You will spend the night in Ingushetia's capital city Magas, the "newest" city in the world. Make sure to stroll down the main thoroughfare tonight, as you'll get to see the local population out and about in this growing new city.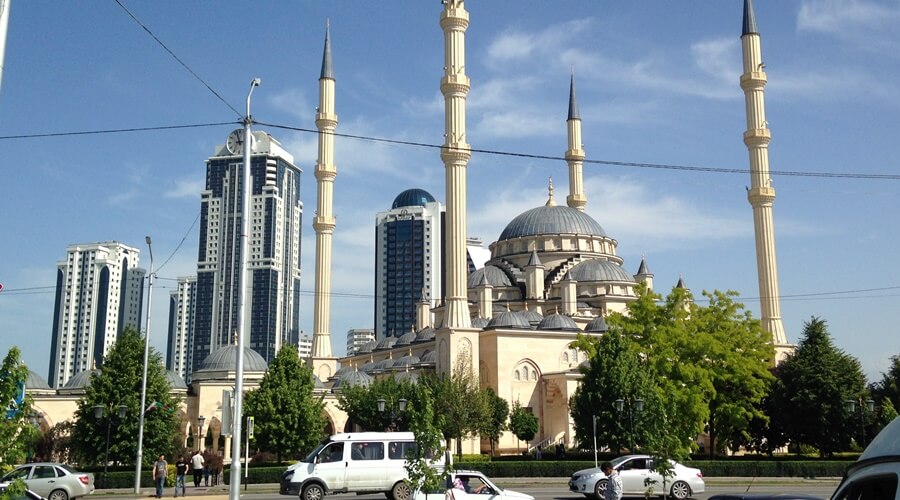 Say goodbye to memorable Ingushetia today, as you'll enter yet another part of the North Caucasus, perhaps its most unique republic: Chechnya. The capital Grozny is very beautiful and safe, having been completely rebuilt after the wars of the 1990s and early 2000s, with more foreigners visiting every year. Chechens pride themselves on their hospitality towards guests, and so we are excited to introduce you to this land and people. Once you've arrived in the early afternoon, we'll make sure you have time to tour the city and acquaint yourself with the local Chechen customs and traditions. You'll spend extra time at Grozny's "Heart of Chechnya" mosque, the largest mosque in all of Europe. Prepare to be amazed by the exquisite designs of the domes from within, as well as the reverence with which worshipers come and go. It truly is an architectural masterpiece.
You'll hit the road again this morning, as you drive into Chechnya's corner of the Caucasus Mountains, to beautiful Lake Kezenoi-am, the largest lake in the North Caucasus. Kezenoi-am's emerald colors and stunning mountain backdrop make for a memorable visit. For the more adventurous, there's the option of riding the zip-line that runs across the lake. You'll also visit the ruins of the ancient Chechen village "Hoi" along the way. On the way back to the capital you'll visit the recently inaugurated "Pride of Muslims" mosque in Shali, a small town near Grozny. It is said that this is now the largest mosque in Europe. The marble-decorated building can hold up to 30,000 worshipers, and there is space for 70,000 more in its grounds. The white marble used in the construction came from the Greek island of Thassos. With its interior lighting, 8-meter crystal chandelier and gold decorated wall ornaments this mosque is an impressive piece of architecture.
Pack your bags and say goodbye for now to the North Caucasus, a place we hope you will come back to for another adventure very soon. Fly out of Grozny's airport, through Moscow, and back to wherever you call home.
Talk to an Elbrus expert today:
Your safety & success are our priority. Our guides:
What you'll experience on "Climb Elbrus & the Capitals" tour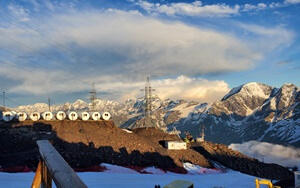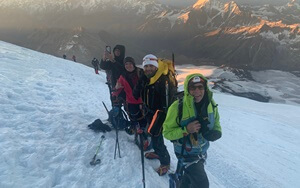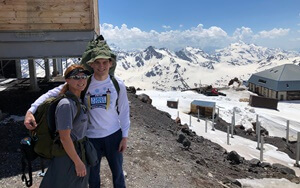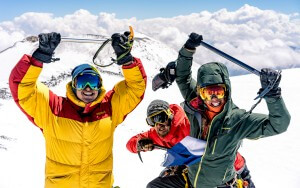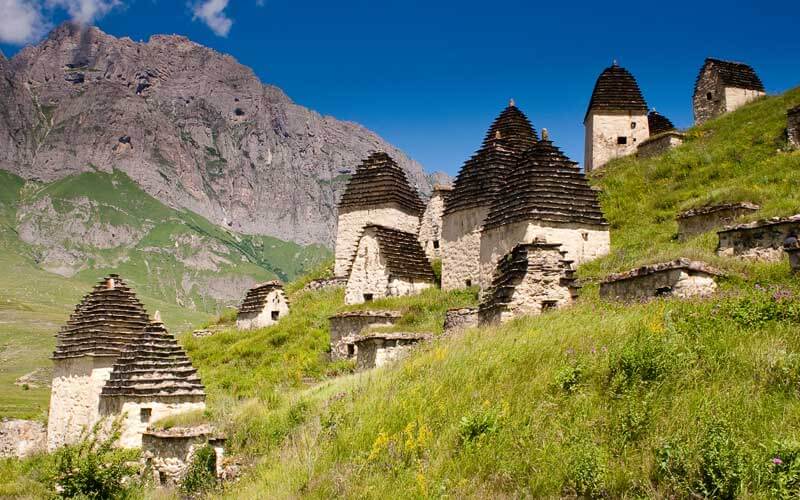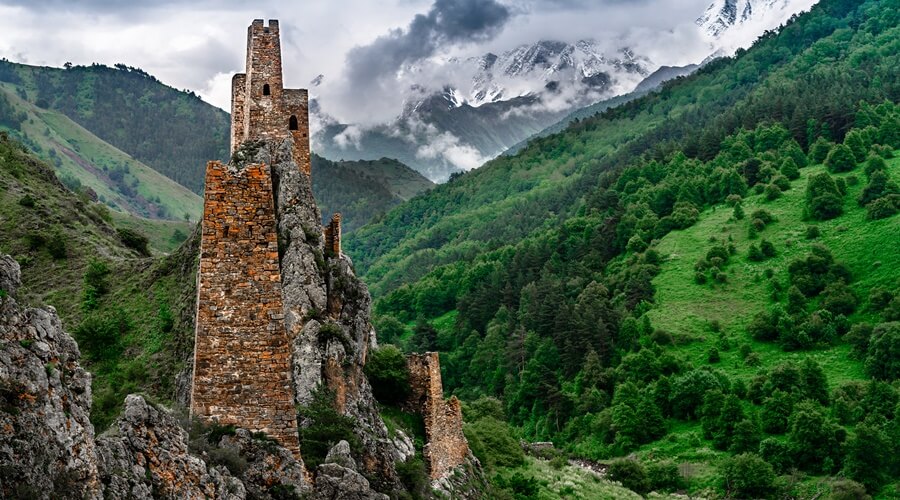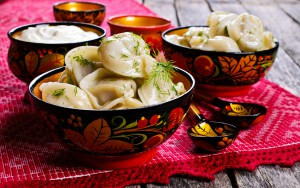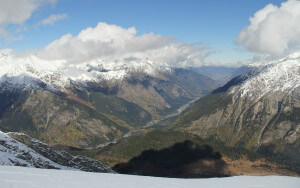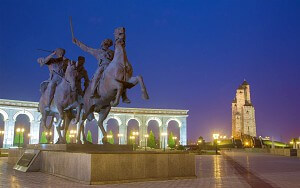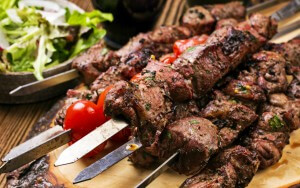 All transportation, including airport pick-ups/drop-offs
Full Board at Elbrus – All Meals included
Unlimited Coffee/Tea at Elbrus
Elbrus Lodging – 3 nights in hotels and 4 nights in barrel huts during acclimatization
Tickets for Mountain Chair Lifts
Rental of group climbing equipment
Professional English-speaking Mountain Guide (one ascent attempt included in cost)
Additional Mountain Guide on day of ascent (1 guide per 3 climbers)
Safety precautions (registration with Russian emergency services, walkie-talkie system, first-aid kit)
Entrance fees to national park
Capitals Lodging – 5 nights of hotels
English-Speaking Guide in Capitals
Domestic flights between Caucasus (MRV) and St. Petersburg (LED)
Train between St. Petersburg and Moscow
All Excursions and Museum Entrance Fees
Extensive Pre-Trip Pre, Planning, Customization, Customer Service
International and domestic airfare
Russian tourist visa
Rental of personal climbing gear
Lunches/Dinners in the Capitals
Additional services requested at hotel (spa/banya, etc.)
Use of "Snow Cat" tractors/snowmobiles on acclimatization climbs or day of climb
Any change to the program that requires extra expense
Additional beverages at meals (non-alcoholic and alcoholic)
Professional photo/video services
Personal Insurance for climber
 
Items marked "Rental" are available for rent at Mount Elbrus.
Climbing Gear:
Climbing Backpack (25-30 liters) – Rental
Head lamp (with extra batteries) – Rental
Climbing harness – Rental
Nylon slings/runners – Rental
3 locking carabiners – Rental
Ice axe – Rental
Crampons – Rental
Mountaineering boots – Rental
Trekking poles – Rental
Sleeping bag (-10 deg C) – Rental
Insulated water bottle – Rental
Upper Body:
Hard shell jacket (Gore-Tex or equivalent) – Rental
Expedition Parka (heavy insulated "puffy") – Rental
Light/Mid-weight insulated "puffy" jacket
Fleece hoodie/pullover
Synthetic base layer
Synthetic t-shirts
Lower Body:
Hard shell pants – Rental
Synthetic trekking pants
Insulated pants (fleece sweatpants)
Synthetic/wool thermal long underwear
Synthetic/wool underwear
Hands and Feet:
Synthetic/wool hiking socks
Synthetic/wool expedition weight socks
Gaiters – Rental
Hiking boots/shoes
Heavyweight gloves
Mid/lightweight gloves
Expedition weight mittens – Rental
Head Ware:
Balaclava/buff
Beanie
Sunglasses (100% UV protection) – Rental
Ski Goggles (100% UV protection) – Rental
Other:
Personal first-aid kit
Prescription meds (inhaler, EpiPen, etc.)
Personal toiletries & sunscreen
OUR GUIDES YOU CAN TRUST: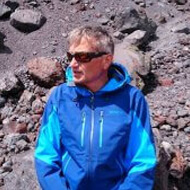 Sergyey
Years Guiding: 16
Successful Elbrus Summits: Over 200 Certification & Medical Training: - Russian Mountain Guide Level 2 - First Aid/ First Responder Other Experience: - Backcountry Skiing - Ski Instruction in Sochii - Paragliding Languages: Russian, English, Italian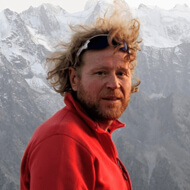 Aleksey
Years Guiding: 15
Successful Elbrus Summits: Over 100 Certification & Medical Training: - Russian Mountain Guide Level 3 - Avalanche Safety Training - Professional Search and Rescue - Paramedic Other Experience: - International Guiding and Ski Instruction - Mountain Biking Languages: Russian, English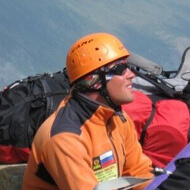 Dimitry
Years Guiding: 19
Successful Elbrus Summits: Over 200 Certification & Medical Training: - Professional Search and Rescue - First Aid/ First Responder Other Experience: - International Mountaineering - High Altitude Mountaineering Languages: Russian, English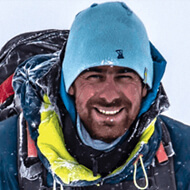 Oleg
Years Guiding: 7
Successful Elbrus Summits: Over 100 Certification & Medical Training: - First Aid/ First Responder Other Experience: - International Guiding - Backcountry Skiing - Ice Climbing Languages: Russian, English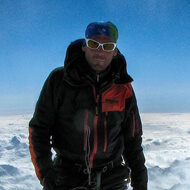 Eugene "Johnny"
Years Guiding: 20
Successful Elbrus Summits: 193 Certification & Medical Training: - Russian Mountain Guide - First Aid/ First Responder Other Experience: - Extensive International Mountaineering - High Altitude mountaineering in the Himalaya and elsewhere - Ski Mountaineering Languages: Russian, English
CLIMB ELBRUS & THE CAPITALS PRICING
| Tour Level | 2 People | 3-4 People | 5-6 People |
| --- | --- | --- | --- |
| | | | |
| | | | |
| | | | |
* All prices are in US Dollars, per person.
Leaprus reservations subject to availability.
For single rooms, a single supplement fee will be applied.
Contact us for larger group pricing.
NEXT STEP → Start planning your Elbrus climb now. An Elbrus specialist will get in touch shortly: