In our experience, many trekkers & climbers with any international experience have likely summited Africa's Mt. Kilimanjaro, based on its relative accessibility and the mountain's reputation for being the "easiest" of the Seven Summits.  Following a successful summit of Kilimanjaro, most climbers will turn their attention to more technical peaks to gain more high-altitude experience & skills.
Enter Mt. Kazbek.  Despite Kazbek being several hundred meters lower than Kilimanjaro, there are a lot of reasons why this "Pearl of the Caucasus Mountains" is a good follow-up ascent to Africa's highest peak.  
So how does Mt. Kilimanjaro compare with Mt. Kazbek?  Find out below!   
1 – Pre-Trip Planning:
A) Kilimanjaro – Mt. Kilimanjaro is the highest peak in Africa and is located in northern Tanzania near the Kenya border.  Although Kilimanjaro is not a technical mountain, it should not be underestimated in terms of difficulty.  The fact that Kilimanjaro National Park reports an overall summit success rate for climbers to be less than 50% annually, suggests that this is not an "easy" mountain.  This low success rate is likely due to climbers underestimating the difficulty of ascending 19,000+ feet and not allowing time for adequate acclimatization (including a lack of training).  
The sheer number of climbers and trekkers that visit Kilimanjaro each year results in so many YouTube videos and online trail descriptions that you can get a very detailed understanding of what you are signing up for.  In addition to the wide availability of information, there is little reason to be concerned about personal safety while visiting Tanzania, as all the tour companies have done a good job at promoting the area and addressing concerns foreigners may have about coming to east Africa.

All climbers on Kilimanjaro must have a local guide and permit to climb the mountain.  There are many guide companies in the area and prices will vary greatly.   Although most climbers like planning in advance and booking their company/trip online, it's also possible to select a guide/group upon arrival.  Once you have selected a guide company, you will need to determine the route you would like to climb for your summit attempt. 
There are seven (!) well-established routes leading to the summit of Kilimanjaro.  Routes vary in the number of days required and each route has its own set of advantages and disadvantages.  The Marangu route, also known as the "Coca-Cola" route, is one of the more popular options, and boasts the shortest required amount of time with climbers being able to make it to the summit in as few as five days.  Unfortunately, many climbers are not able to acclimatize adequately with such a fast ascent and so this route also has one of the lowest success rates.  Discuss the merits of each route with various guide companies so you can make an informed decision.
B)  Kazbek – Mount Kazbek is a fairly different experience that you will feel as you begin your planning.   Once you start searching for a reputable guide company, you'll quickly realize there are a lot fewer companies guiding on Kazbek than on Kili (this is mostly due to Kazbek being off-the-beaten-path in a former Soviet country).  There are surprisingly few Western-based climbing companies promoting climbs to Kazbek (at the moment), and so this is refreshing to climb a mountain that likely most (or none) of your friends have yet to summit (or even heard of!).
For many western countries, a visa is not needed to Georgia which simplifies the pre-trip planning.  For other countries, one can apply for an e-visa online; ***make sure to check online for the visa requirements for your country to arrive at customs with all the necessary documentation!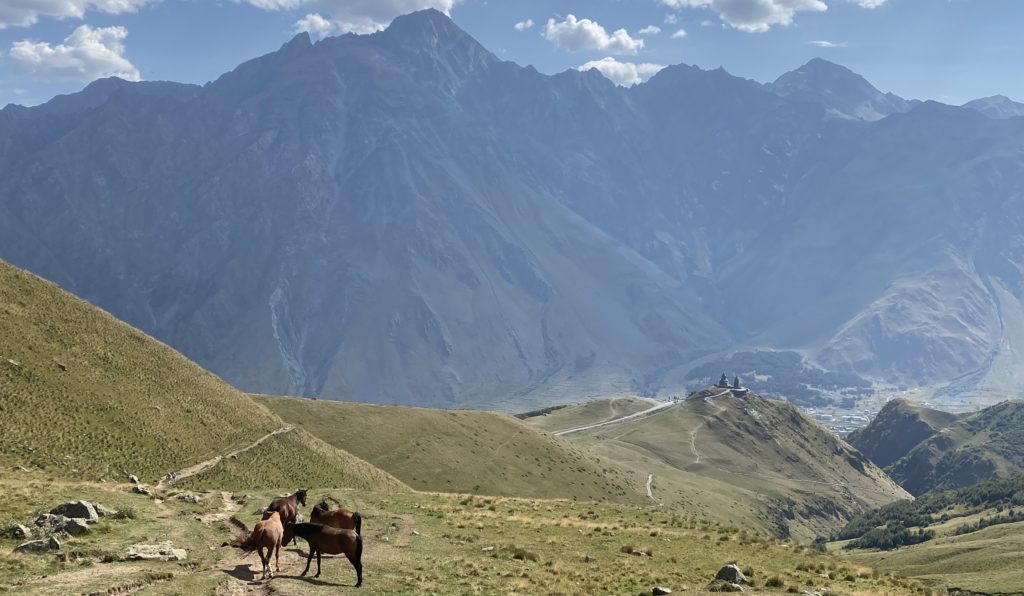 At some point while working through the logistics of finding a guide company, you may read government warnings about visiting the Caucasus region.  This is understandable as to the north, Kazbek shares a border with Russia, and to the south, you'll find Armenia & Azerbaijan, where an ongoing conflict sometimes flares up over the disputed region of Nagorno-Karabakh.  Georgia also is home to two disputed territories of its own, Abkhazia and South Ossetia, currently controlled by Russia.  The security & travel infrastructure within Georgia itself receives high reviews but do take into mind the situation with neighboring countries when deciding about traveling to Mt. Kazbek.
2.   International Travel & Arrival
A) Kilimanjaro – To get to Kilimanjaro most climbers will fly into Kilimanjaro International Airport in Arusha, Tanzania.  The airport is convenient and has direct flights from Amsterdam.  You (or your guide company) will need to arrange transportation to Moshi and your selected trail head.  Customs is straight forward with a visa obtained on arrival at the airport.  Your guide will arrange all mountain permits and ensure the group is signed in at each camp. 

Once you have chosen a guide company and selected a route, it's time to weigh your equipment/gear in order to determine the number of porters you will be required to hire; your guide will provide you with the maximum weight each porter will be asked to carry.  Once all of this is settled, you are ready to start your ascent! 
The parking lot near the gates of Kilimanjaro is an incredible scene.  There are people everywhere: climbers, guides, cooks, tour organizers, official representatives of the national park, and porters.  Some of these porters have already secured a job and they are packing equipment and securing loads.  There is another large group of porters that are not permitted into the parking lot, standing outside the gates trying to get companies and climbers to hire them.  You'll hear different languages and accents spoken all around. 
B)  Kazbek – To get to Mt. Kazbek, you'll likely need to fly to Tbilisi International Airport (TBS), Georgia's capital.  Kazbek is a 3-hr. drive from Tbilisi.  Tbilisi has direct flights from many regional locations including Istanbul, Athens, & Dubai.  Despite it being a bit further from Kazbek than Tbilisi, Kutaisi International Airport (KUT) is also an option to fly into with several budget airlines providing direct flights there.  The car/van transfer from Kutaisi to Kazbek is 6 hrs.  You can order a taxi on the convenient Bolt App, or your guide company is likely to provide a transfer for you to Kazbek.  
The drive from Tbilisi to Kazbek is beautiful of course, as you drive through the ski-resort town of Guduari, and then descend towards the main Caucasus Range and Stepantsminda, where your trek of Mt. Kazbek begins.   
3.  Acclimatization Process
A) Kilimanjaro – On Kilimanjaro, you will not be responsible for carrying the vast majority of your gear; thus the reason for all the porters.  You'll be asked to clearly label your duffel bag with your name and before you know it, a porter you have never met or spoken to will grab your bag and head up the mountain.  At this point, you are just praying that somehow through all the confusion you will see your bag again.  In light of this, the porters on Kilimanjaro are amazing!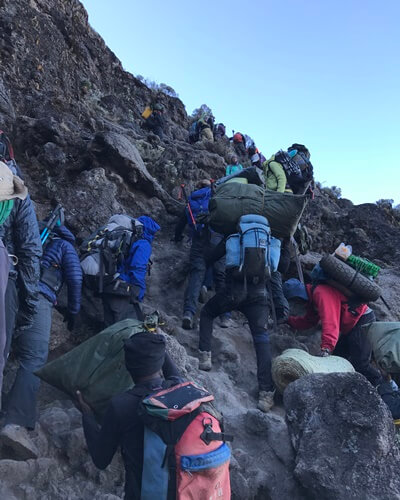 While you are asked to carry a simple day pack to cover your immediate needs, your porters will carry all tents, cookware, a toilet (yes, a toilet), chairs, full-size tables, lamps, water, all your food, and any other awkward or heavy items you opted to bring.  Keep this in mind when you are planning what to bring.  SOMEONE is going to be carrying everything you bring.  That means someone is going to carry your load up a steep, difficult, high altitude trail and they will do it at a pace that far exceeds any pace you will be walking. 
There are five eco zones on Kilimanjaro.  Basically you begin in a sweltering jungle and end up in a freezing arctic zone by the time you are on the summit.  Each night on the mountain you sleep in a different camp as you steadily move up the mountain.  Your porters will move faster than you and each day when you arrive at camp, you will find your tent set up and you will have a cook ready to prepare you dinner.  Some nights the dinners are great, and other nights, well… you'll be glad you packed some other snacks from home. 🙂 The porters will also provide you with a clean water source each night, so you will want to fill up your bottles for the next day. 
B)  Kazbek – After likely spending Day 1 in Stepandsminda at the base of Mt. Kazbek (1,700 meters above sea level) and renting the required gear, you'll start climbing Kazbek itself on Day 2.  Most groups take an off-road vehicle up to the famous Gergeti Church to start their trek at 2,200 meters, but climbing 100% on foot direct from Stepantsminda is also an option. While some climbers climb from 2,200 meters all the way to the primary/upper base camp (3,600 meters), we recommend a slower acclimatization plan, spending the first night at lower base camp at 3,000 meters.  This gives your body more time to adjust gradually to the steep altitude change, and lowers the risk of altitude sickness affecting you significantly.  Then, the following day (Day 3), you can move from 3,000 to 3,600 meters, ie to the primary/upper base camp (which includes your first use of crampons trekking over Gergeti Glacier from 3200 to 3400 meters).  This is Kazbek's base camp, also known as Meteo/Betlemi Hut, and will be your home for the next few days.  Most climbers will spend two nights at this elevation allowing their body to acclimate, before attempting to summit. The time is valuable and needed for a successful summit. 

During your time acclimatizing at base camp (Day 4), you'll climb up to 4,100 meters and back, while doing some basic technical skills training with ice axes and roped climbing.  There are limited lodging options at Mt. Kazbek's base camps.  Some groups choose to sleep/camp in tents the entire time for the full mountaineering experience.  At 3,000 meters, there is quite comfortable "hut" lodging at Alti Hut, and at 3,600 meters, the lone accommodation option is at the Meteo/Betlemi Hut.  Meteo is a bare-bones accommodation with tight rooms and old bunks, with a newer cafe and food options in the 1st floor cafe.
***Note:  There ARE porters at Mt. Kazbek.  You can pay to have horses carry 15 kg (i.e. 33 lbs) of your gear from 2,200 to 3,600 meters (ie. the main base camp), and back down, while yourself carrying enough gear/food for 2 days if spending the night at 3,000 meters.
4.  Summit Day Climb
A) Kilimanjaro – Summit day you will leave your tent around midnight and begin your hike into the cold African night.  Most porters do not go to the summit, so it will likely just be your group and a few guides, along with all the other climbers making their way to the top.  The night is very cold and seems to be endless.  Somewhere around 3:00 am I looked up and became very discouraged when I realized how far the summit still was.  I found the best solution was to pick a milestone (a rock, turn, etc) a few hundred meters ahead and focus on nothing but that.  I would tell myself, "I only have to get to that rock", and then once I was there, I would immediately select my next milestone ahead and continue the process; this went on for hours.  Finally somewhere around 5:30 am the sky started to lighten and the freezing night began to come to an end. 

Our guide told us we were about 40 minutes to Stella Point, which is the first spot you will come to at the rim of the mountain peak(5685 meters).  When we reached Stella Point the sun was rising and all doubts of not reaching the summit were washed away.  From there it was just another 40 minutes of slowly, painfully, walking uphill to Uhuru Peak, the Roof of Africa!  The Summit of Kilimanjaro is broad and has dozens of climbing teams all lining up to get the coveted photo next to Summit of Kilimanjaro sign.  After just a few minutes on top, you begin the long hike back down to your tent at high camp.  The hike down is long and you are exhausted but with each step the air gets thicker and you steadily begin to feel stronger. Most people will spend just one more night on the mountain as they make their way back to the base.  Once off the mountain, the thing the thing I craved most was a hot shower and clean change of clothes. These luxuries were readily enjoyed upon arrival at our hotel back in Arusha. 
Watch YouTube recap of Kevin's Kilimanjaro trip and successful summit from start to finish.
B)  Kazbek –  Summit day at Kazbek starts in the 1:00-3:00 am window, depending on the weather forecast.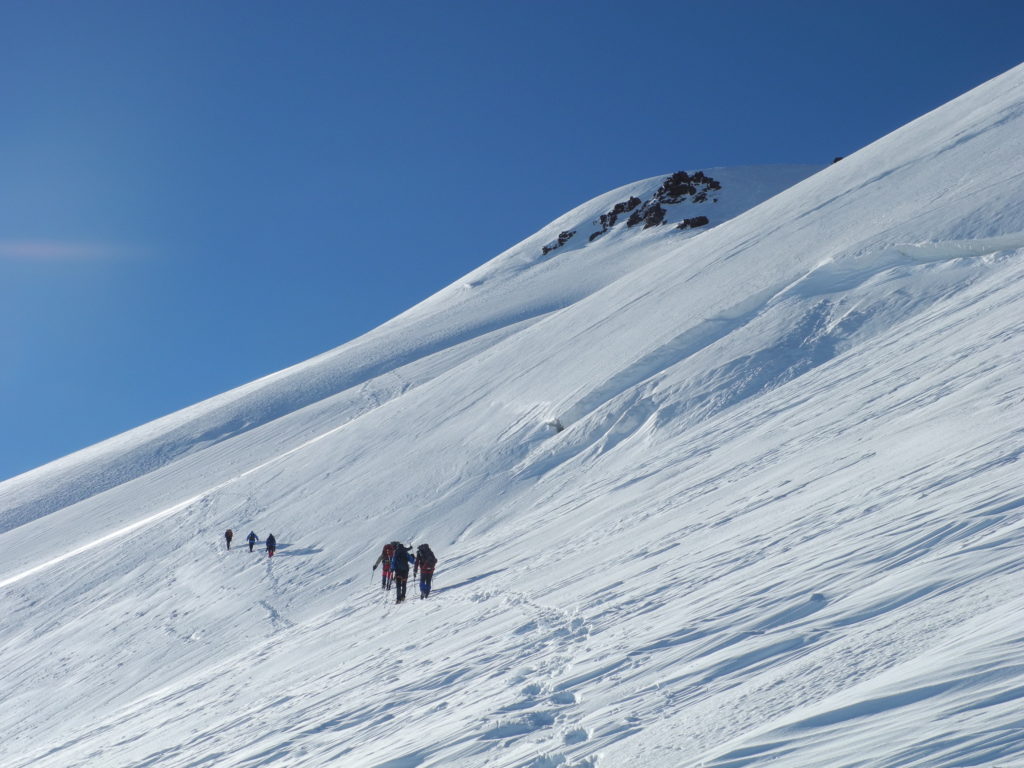 There is one trail that (most) climbers take up Kazbek, and it winds its way around the mountain before you begin the steep ascent.  Your first few hours will be with head lamps on as you climb in the dark of night.  Kazbek stands tall in the middle of the Caucasus Mountain Range, and so you will be dressed warmly with multiple layers of clothing to stay warm from potentially strong winds and even blizzard-like conditions.  You will strap on crampons once arriving to the snowy/icy portion of the climb (depends on what time of year you climb, but in the warmest months, typically 2 hrs. after leaving base camp), and will have your ice axe ready to use as well as carabiners for the fixed-rope portion of the climb.  Along with wearing serious mountaineering boots (D2/B3 level), the gear required on Kazbek is a significant difference between this climb and Kilimanjaro.
Once to the glacier, you'll put on your crampons for the rest of the summit on ice and snow, and rope in with your team as well for the rest of the ascent and descent.  There are many crevasses on the glacier so your guide will be sure to have everyone on high alert watching your steps.  After ascending the glacier for several hours, you'll plateau around 4,400 meters elevation, and the sunrise will begin to brighten the horizon.
Despite successfully covering the most technical part of the ascent, now is the most physically demanding as you start a 3 hr. traverse up a steep incline.  A relatively flat & safe pass awaits after the traverse, which leads to the final push to the summit with the help of your ice axe.  The wind at the top of Kazbek can be intense and the air frigid.  Depending on the weather, the views of the greater Caucasus range can be breath-taking, including of Mt. Elbrus in Russia in the distance, Europe's highest peak.  After a quick celebration and snapping some photos, it's time to head back down. 
The climb down to basecamp takes significantly less time, and similar to Kilimanjaro, the air gets thicker and easier to breathe with every step.  That being said, you're still dealing with potentially treacherous mountain elements including strong winds, crevasses, and serious fatigue.  This is the time to be most vigilant with your steps as one can have a tendency to relax with the peak behind them. 
Once back at base camp, you're due a hearty meal and lots of water and hot tea/coffee, and then a full night of sleep for your final night at base camp.  IF the weather on your scheduled summit day won't accommodate a safe summit attempt, you'll use your reserve day and summit the following day.  Otherwise, the day after your summit, you'll descend Kazbek from 3,600 to 2,200 meters, back to Stepantsminda, your hotel/guest home, and finally, a hot shower.  Horse porters can be used on the descent as well.  
5.  Post-Climb Highlights
A) Kilimanjaro – Post Kilimanjaro-climb, the thing to do while in east Africa is Safari!  Safaris range from just a few days to weeks, and are definitely worth fitting into your itinerary.  Following our Kili success, we opted for a 2-day safari which I thought was just the right amount of time.  Seeing African animals in the wild is an amazing experience, but after 2 full days, the excitement you feel when you see a wild elephant starts to subside. 

We spent our two days at the Tarangire National Park and at the Ngorongoro Conservations Area with our overnight at the very nice Ngorongoro Wildlife Lodge.  Following our second day of safari, we went back to the Kilimanjaro International Airport and began our long trip back home. 
B)  Kazbek – Beyond Kazbek, visiting Georgia is an amazing experience.  There is truly something for everyone.  Many prefer to spend time in Tbilisi, Georgia's eclectic capital with its great history & ambiance.  Others prefer a relaxed visit to Kakheti in NE Georgia, i.e. wine country full of vineyards and wineries.  There are other great trekking destinations in Georgia including Tusheti and Svaneti, or one can relax in Batumi, Georgia's prime Black Sea beach destination, only an hour from the border with Turkey.  No matter where you go in Georgia, make sure to try the local cuisine that its so famous for: khachapuri (cheese bread), khinkali (dumplings), baklavan (eggplant), and much more!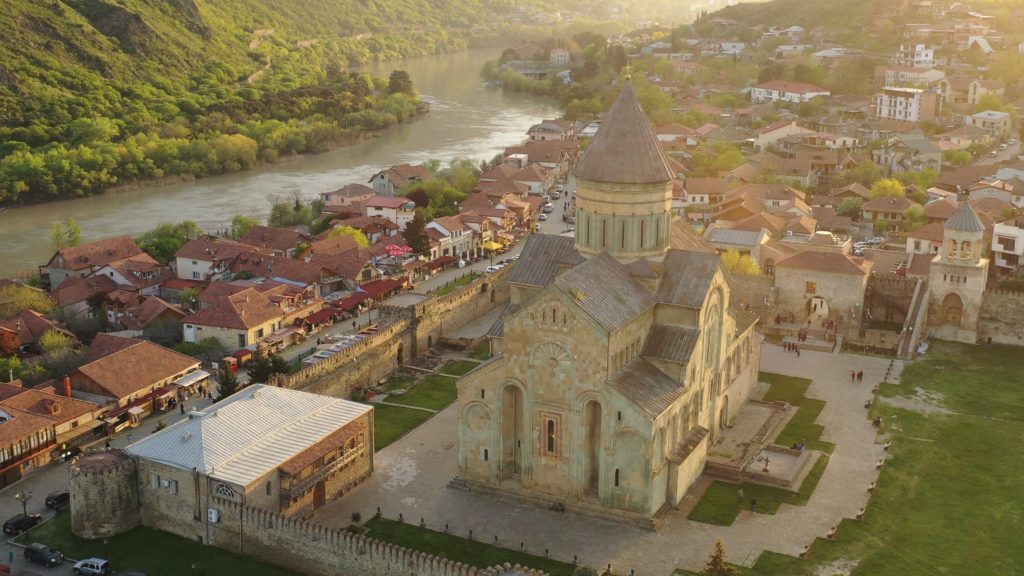 READY TO SUMMIT MOUNT KAZBEK WITH A HASSLE-FREE CLIMB?
GET STARTED WITH OUR SAMPLE ITINERARIES NOW →
About the Author:
Kevin Abernethy is an American traveler who loves spending time outdoors and has a great passion for mountaineering.  Kevin is currently working on climbing the Seven Summits and has successfully summited Mount Kilimanjaro (Africa), Mount Elbrus (Europe), and Mount Kosciuszko (Australia), as well as several other notable peaks in the Alps & Ecuador.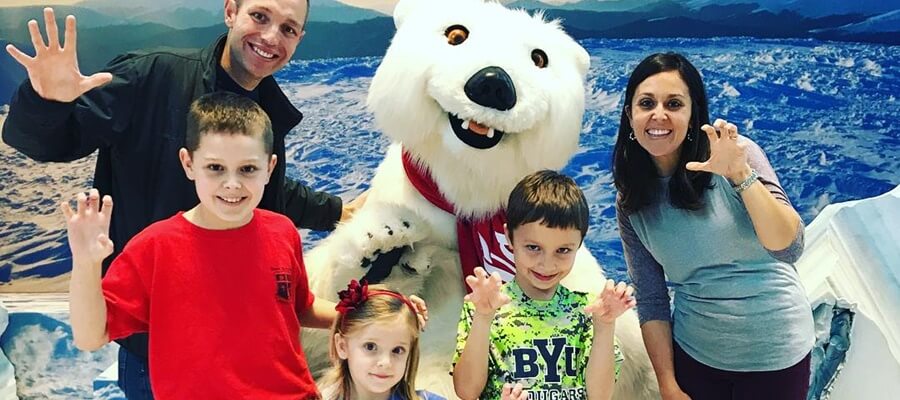 He is grateful for the support from his wife, Katie, in pursuing his passion for climbing.  Kevin and Katie are currently raising their three children in Kuwait.