SUMMITING MT. KAZBEK & TOURING TBILISI
11 days / 10 nights :: 3, 4, & 5-Star Options Available
The Climb Kazbek & Tbilisi tour is an adventure trip on a relaxed schedule, featuring climbing Mt. Kazbek in Georgia, followed by cultural touring in Georgia's ancient capital Tbilisi. You'll enjoy the thrill of summiting Kazbek while also soaking in 3 nights in beautiful Tbilisi: tasty food, fascinating history & culture, famous wine, and more. Take your time, summit Mt. Kazbek, enjoy Georgia, and come away with a newfound appreciation for the Caucasus Mountains!
DAY 1: ARRIVAL TO THE CAUCASUS
Welcome to Georgia (the country!)!  We'll pick you up at the Tbilisi international airport and transfer you to your preferred 3, 4, or 5-star hotel tonight in Tbilisi.  Georgia's capital comes alive in the evening so make sure to explore this evening while you have the chance! 
DAY 2: TRANSFER TO STEPANTSMINDA
We'll pick you up this morning from your hotel in Tbilisi, then take off for the scenic, 3-hour drive to Mount Kazbek, the 3rd highest mountain in Georgia. Your guide will brief you on the history of the Georgian people along the way, among whom you will be spending the next week. Upon completion of the breathtaking drive to the foot of Mount Kazbek at 5,700 ft  (1,700 m) you will check into your hotel and enjoy some free time to explore the area and take in the views around you.  You will meet with your guide today, rent any needed gear, and go over the plan for the next 6 days, and a successful Kazbek ascent!
DAY 3: ACCLIMATIZATION HIKE
Today you get to meet Mount Kazbek up close and personal. You will take a 20-minute drive up to the famous Gergeti Church with its incredible panoramic views of the Caucasus range and Kazbegi valley, and then start your ascent on foot to lower base camp at 10,170 ft (3,150 m). As riveting as you will find Kazbek itself, perhaps the surrounding Caucasus range, stretching into Russia and beyond is even more so. The hike today is 4 hrs. of ascent as well as doubling your elevation, not to mention the significantly colder weather. 
You'll continue up majestic Kazbek today to the upper basecamp at 3,650 meters elevation (12,000 feet).  There's a good chance that altitude sickness may start kicking in tonight, so don't be surprised if it does, this is acclimatization doing its work on your body.  After two straight days of big elevation changes & uphill treks, you'll be ready for bed tonight after dinner!
DAY 5: ACCLIMATIZATION/TRAINING
Wake up with excitement today, as it is your final day before your Kazbek ascent. You'll get acquainted with the first leg of the summit day climb, up to 4,100 meters, as well as do some necessary technical skills training with your guide: how to use an ice axe, getting used to your crampons, climbing with a rope, etc.  Turn in early tonight, as an early wake-up call awaits for your epic summit day tomorrow!
It's Summit Day! You have got a 12 to 14 hour climb ahead of you, and so will start your climb in the dark between 2:00 and 3:00 am. Team is a beautiful thing as you work together with your group up the mountain. The early morning hours of your climb is quite the surreal experience with a line of climbers ascending Kazbek, lit up by a highway of head lamps. Your climb will not be easy by any stretch of the imagination, with altitude sickness, extreme cold temperatures, and unpredictable weather all real possibilities, but it will all be worth it when you reach the top. Take in the view of the Caucasus Mountains arrange at the summit of 16,581 ft (5,054 m). Once you have a quick celebration of your success, prepare for your 5-6 hour descent back to base camp. Dinner never tasted better than it will tonight.
DAY 7: DESCENT/RESERVE DAY
Descent day! Gather your things and head back down to Kazbegi this morning. You'll cover 16 km (10 miles) in 5-6 hrs. and then explore iconic Gergeti Church before the final transfer down to Stepantsminda. After 5 days on the mountain, you'll be ready for a hot shower tonight. 🙂 In case there was inclement weather on Day 6 (yesterday's planned ascent), today will be your summit day up Kazbek.
In case your group needed to use its reserve day and summit Kazbek on Day 7, today is your descent day back to Stepantsminda.  If you successfully summited on Day 6, and descended Kazbek yesterday, then you have a free day today to explore the Kazbegi region: treks, exploring the local Caucasus markets, paragliding, 4-wheeling, etc.  You'll have a final tasty mountain dinner tonight, before heading back to the big city tomorrow for some cultural touring.
DAY 9: TRANSFER TO TBILISI & CULTURAL TOURING
Pack your bags and say goodbye for now to the Caucasus Mountains, a place we hope you will come back to for another adventure very soon. Phase two of your trip begins today, though, as you explore Georgia's wildly diverse culture and history, including: a 6th-century cave city (Uplistsikhe), Joseph Stalin's hometown (Gori), and have a homemade lunch with a Georgian family in Mtskheta, the spiritual center of Georgia.  We'll get you to Tbilisi tonight for your final two evenings in Georgia. 
Tbilisi is one of those cities you've never heard of that you'll probably never forget after this visit.  With its ancient history yet modern feel, there is something for everyone here, esp. the world-renowned food and wine!  You'll explore Old Town, with its narrow cobblestoned streets and charming feel, as well as visit various churches & landmarks that display Georgia's prominent role in world history.  Take in a final Georgian sunset tonight with a view of the Caucasus Mountains in the horizon.
We'll transfer you to the Tbilisi International Airport this morning for your flight home.  We hope to see you again soon!
Talk to a Kazbek expert today:
Your safety & success are our priority. Our guides: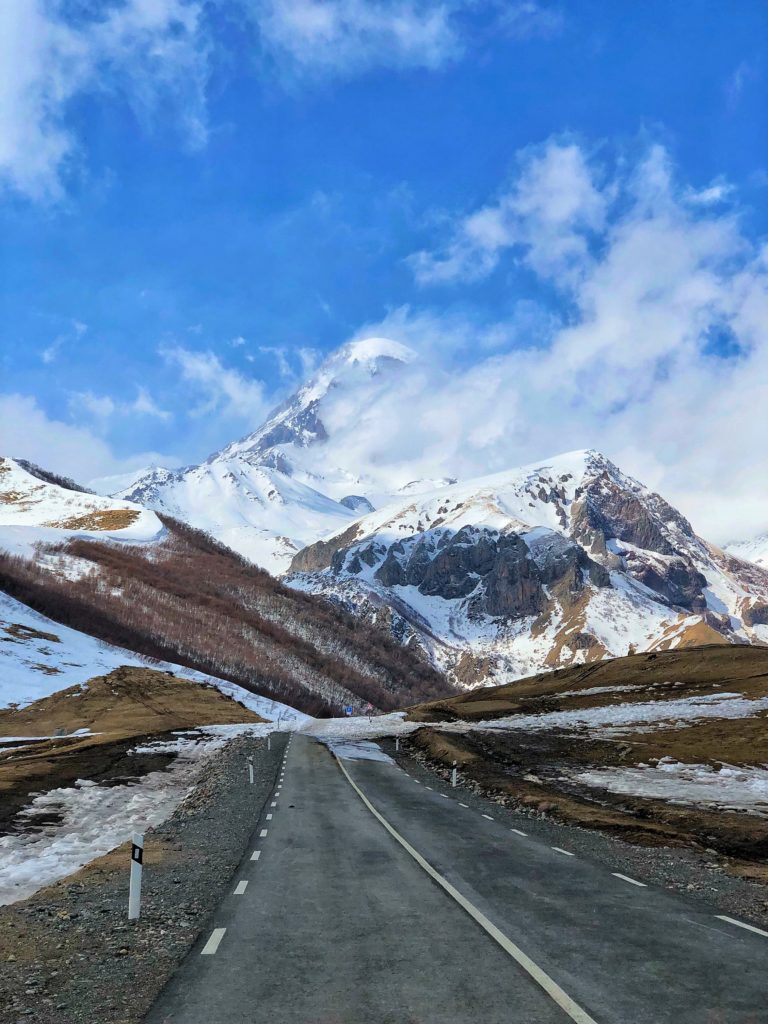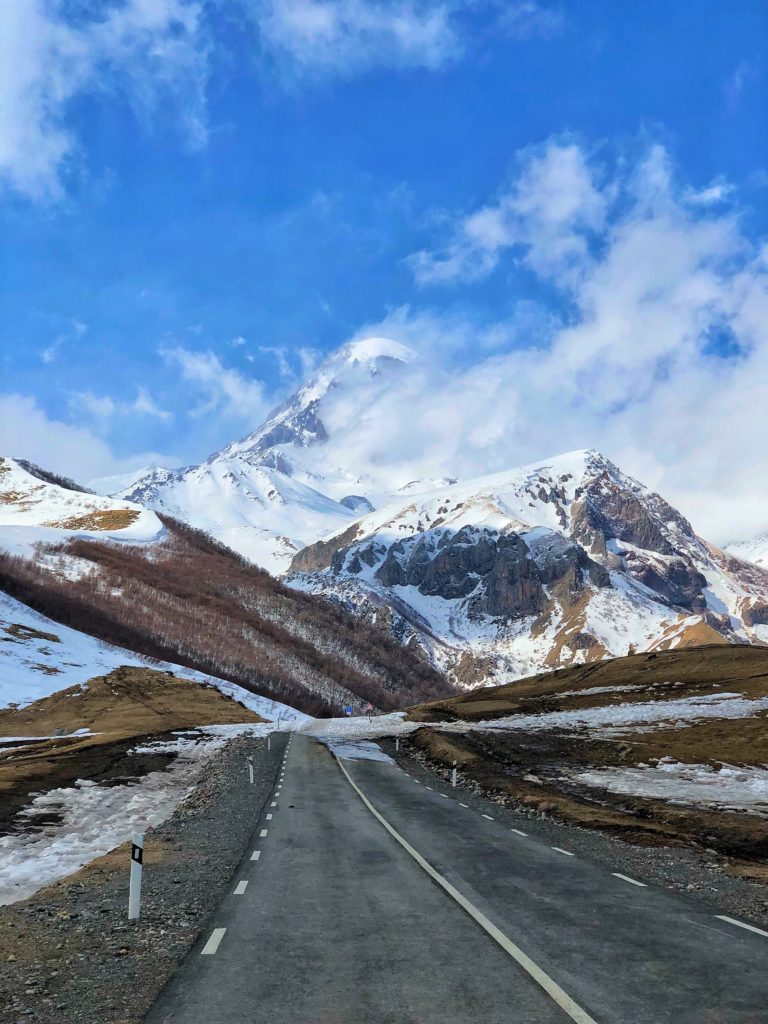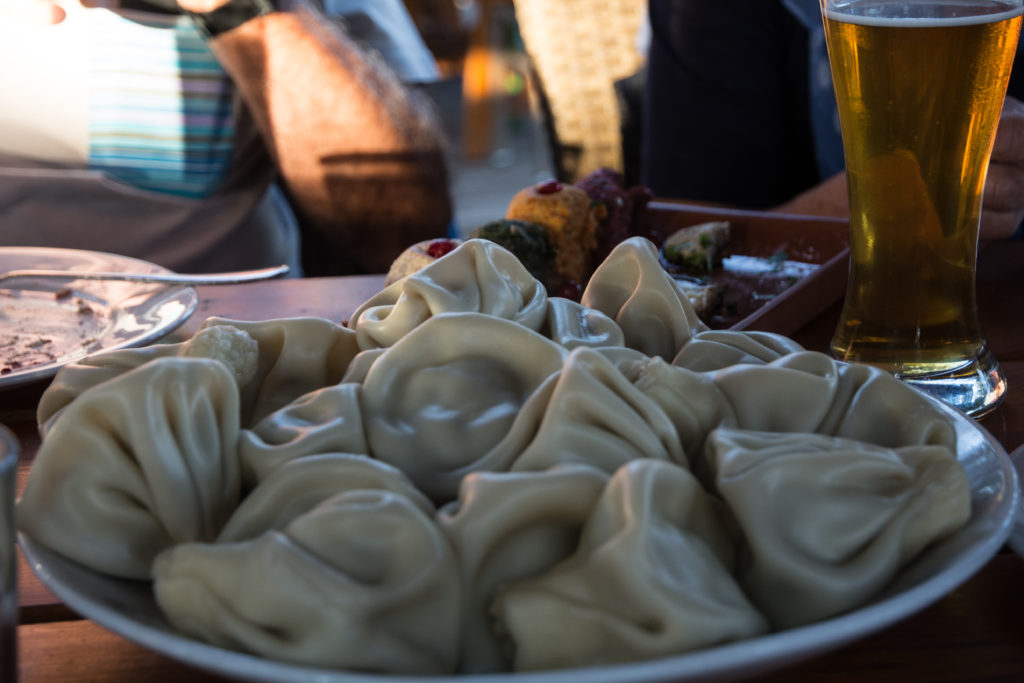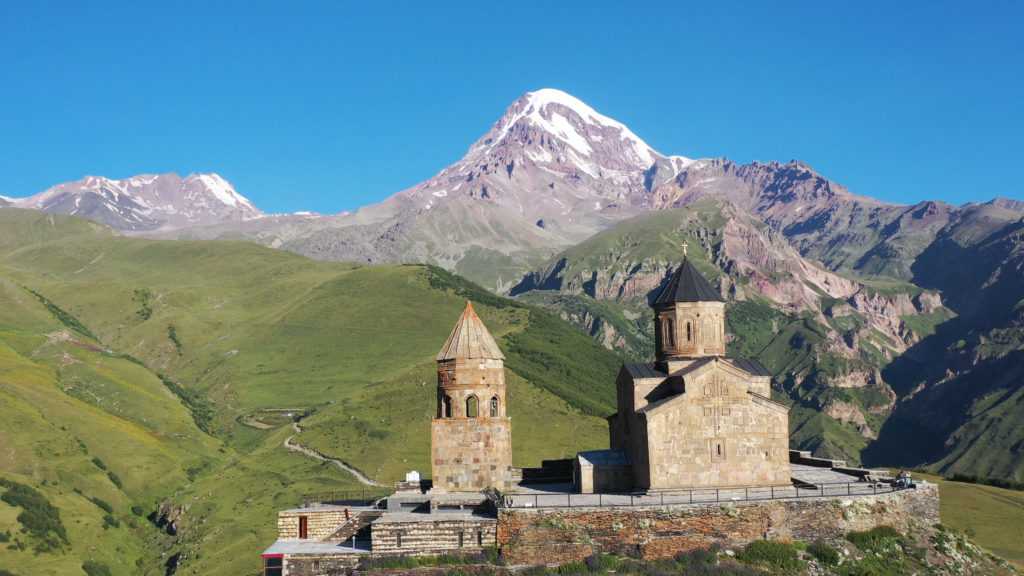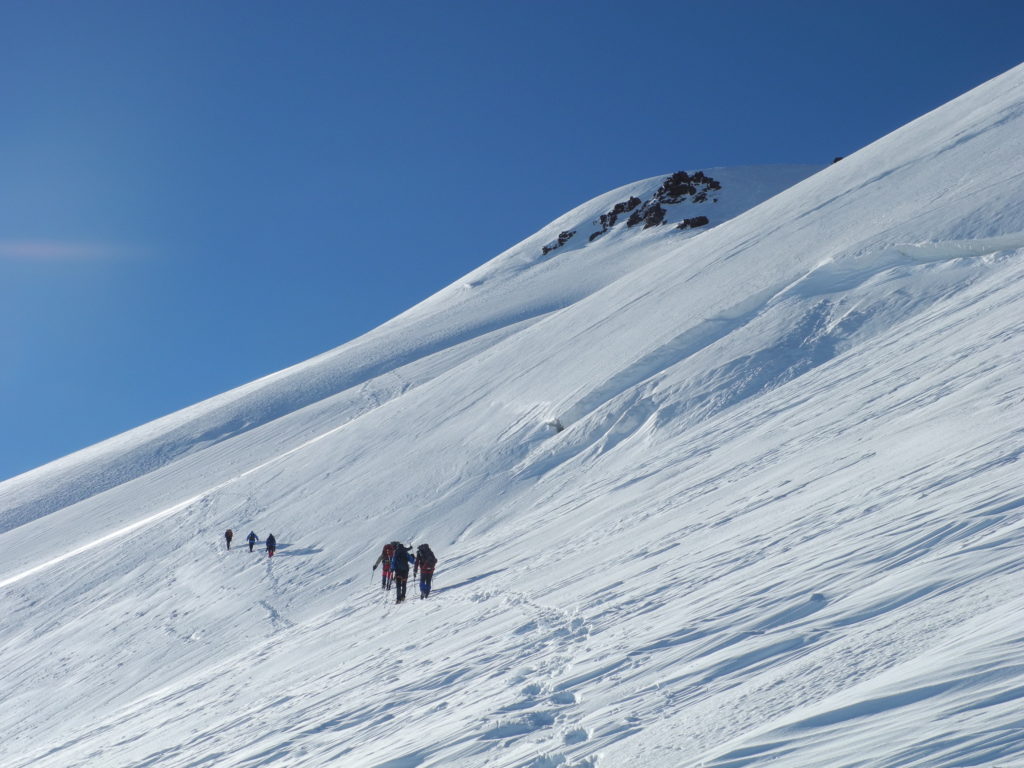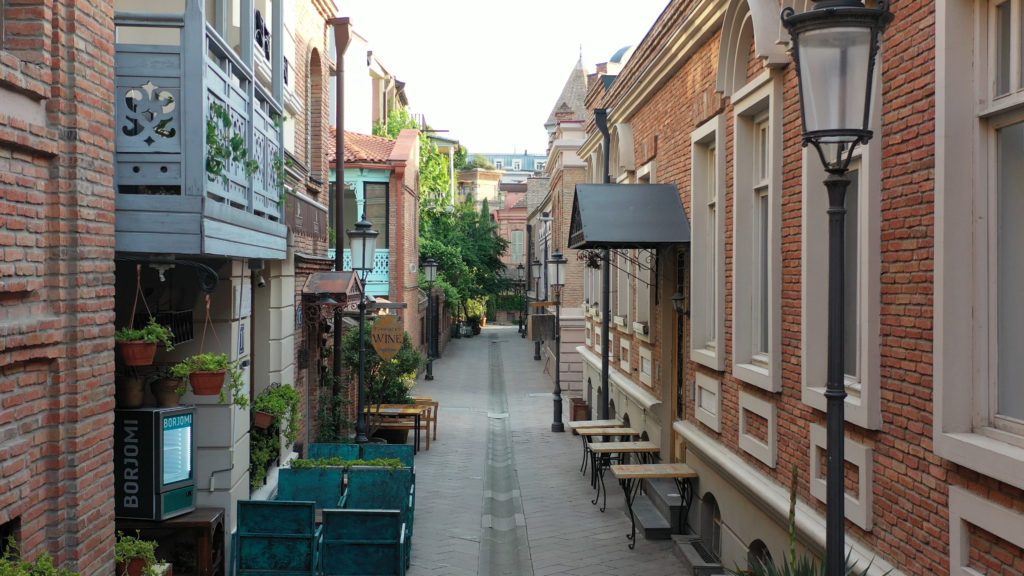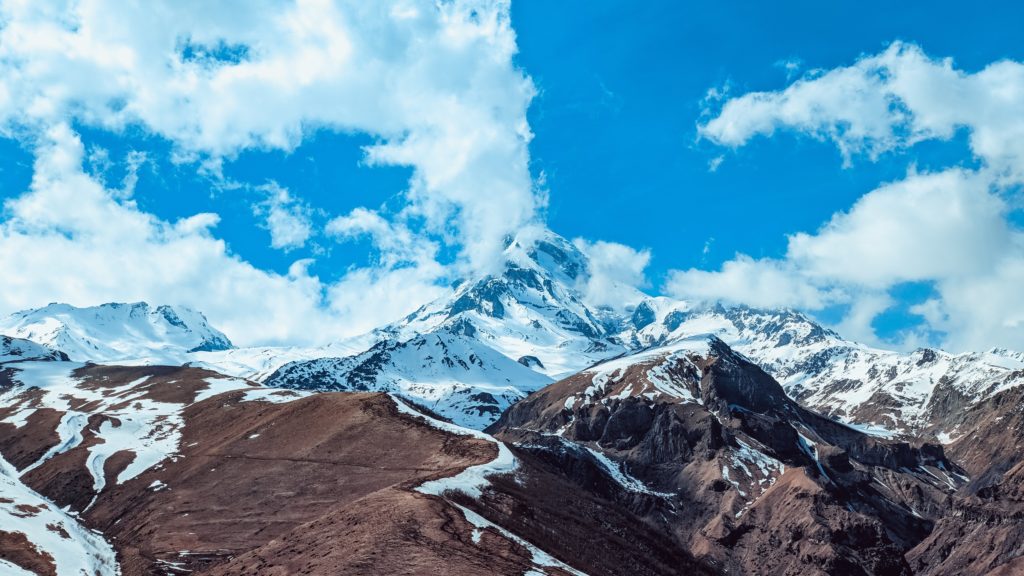 One summit attempt (any departure from base camp on summit day or reserve day is considered a summit attempt)
All transportation, including airport transfers
Meals in Tbilisi: Half Board
Meals in Stepantsminda: Full Board on Days 2,7-8
Meals on Kazbek: Full Board for Classic & Affordable Luxury Options
Lodging in Stepantsminda/Tbilisi- 5 nights in hotels/guest homes
Lodging on Kazbek – 5 nights in tents for Economic and Classic  options
Lodging on Kazbek – 1 night in mountain shelter for Affordable Luxury option (Day 3 at Alti Hut), 4 nights in tents
Group expedition equipment (ropes, nylon slings (sewn loops), ice screws, ice crevice extraction system, communications, first aid kit, etc.)
Professional and experienced English-speaking mountain guides with IFMGA or GMGA certification
1:3 Guide-to-Client ratio
English-language cultural excursions in Tbilisi
Extensive pre-trip planning, customization, & customer service
Horse porterage for Personal Gear (15 kg (33 lbs)/person)
International airfare
Tourist visa on a per-country basis ***not required for most Western countries)
Rental of personal climbing gear (see required gear list)
Additional services requested at hotel (spa/banya, etc.)
Additional summit attempt with guide
Meals while on Kazbek: Must provide one's own Freeze-dried food for economic option
Meals in Tbilisi: Half-Board
Any change to the program that requires extra expense (any departure from the itinerary will be booked by you at your own expense)
Additional beverages at meals (non-alcoholic and alcoholic)
Personal Insurance for climber (***required: Kazbek, Georgia, Mountain Climbing, Extreme Sports)
Tips for guides, drivers & meals
Items marked "Rental" are available for rent at Mount Kazbek.
Climbing Gear:
Climbing Backpack (25-30 liters) 
Head lamp (with extra batteries) – Rental
Climbing harness – Rental
2 Nylon slings/runners
2 locking carabiners – Rental
Ice axe – Rental
Crampons – Rental
D2 Mountaineering boots – Rental
Trekking poles – Rental
Sleeping bag (-10 deg C) – Rental
Insulated water bottle/Thermos– Rental
Upper Body:
Hard shell jacket (Gore-Tex or equivalent) 
Expedition Parka (heavy insulated "puffy")
Light/Mid-weight insulated "puffy" jacket
Fleece hoodie/pullover
Synthetic base layer
Synthetic t-shirts
Lower Body:
Hard shell pants
Synthetic trekking pants
Insulated pants (fleece sweatpants)
Synthetic/wool thermal long underwear
Synthetic/wool underwear
Hands and Feet:
Synthetic/wool hiking socks
Synthetic/wool expedition weight socks
Hiking boots/shoes
Heavyweight gloves
Mid/lightweight gloves
Expedition weight mittens – Rental
Head Ware:
Balaclava/buff
Beanie
Helmet – Rental
Sunglasses (100% UV protection)
Other:
Personal first-aid kit
Prescription meds (inhaler, EpiPen, etc.)
Personal toiletries & sunscreen
Gas Cooker (for boiling water & cooking freeze-dried food) – Rental
Climb Kazbek & Tbilisi Pricing
| Tour Level | 2 People | 3-4 People | 5-6 People |
| --- | --- | --- | --- |
| | | | |
| | | | |
| | | | |
*As a US based company, all prices are in US Dollars, per person. We accept payment in US dollars at the exchange rate in affect at the time of payment. Refer to our Payment Options document for further details on various methods of payment.
*Economic Pricing includes: 3-star hotels/guest homes in Tbilisi and Stepantsminda, tents on Kazbek, and providing your own freeze-dried food for Days 3-7 on Kazbek.
*Classic Pricing includes: 4-star hotel in Tbilisi, 3+ star hotel in Stepantsminda, tents on Kazbek, and meals included in mountain huts/at base camp.
*Affordable Luxury Pricing includes: 5-star hotel in Tbilisi, 4-star hotel in Stepantsminda, 1 night of hut lodging on Kazbek (i.e. Alti Hut), 4 nights of tents, and meals included in mountain huts/at base camp.
*For single rooms, a single supplement fee will be applied.
*Contact us for larger group pricing.
NEXT STEP → Start planning your Kazbek climb now. A Kazbek specialist will get in touch shortly