A Siberian Winter Treat! 10 DAYS / 9 NIGHTS :: 3 & 4-star options available
DAY 1: ARRIVAL IN SIBERIA
Welcome to Siberia and Irkutsk!  Your English-speaking guide will be waiting to pick you up at the airport, and will make sure you get checked in at your hotel.  You probably had a long flight through multiple time zones to get here, so take this evening to adjust to jet lag, rest up, and get ready for your Baikal adventure starting tomorrow!
You'll start your time in Siberia with a city tour of Irkutsk, which was founded in 1661 to colonize Siberia.  Some of the highlights of the city include the Angara River Embankment, the WWII Monument and Eternal Flame, the Decembrist House Museum, the Irkutsk Central Market, and the Epiphany Cathedral and Bell Tower.  This cathedral is distinct in its appearance from other Orthodox churches, as well as the inside with full-length icons on the walls.  At the top is a 12-ton bell, the largest in the city. There are many similarities between cities throughout Russia, but each also has its own distinct features, which you'll be sure to notice about Irkutsk!
DAY 3: LISTVYANKA/LAKE BAIKAL
Today you'll have your first encounter with the shores of Lake Baikal at Listvyanka, the gateway to the lake from Irkutsk.  You'll experience the local fish markets, visit the limnological museum showing Baikal's more than 3,500 unique species of flora and fauna, and have some amazing photo opportunities as you explore Baikal's shores for the first time.  You'll take an unforgettable 3-hr. Hovercraft ride on the ice of Baikal along parts of the Circum-Baikal Railway, which is a 89-km railway with 39 tunnels along Baikal's southern shores.  You'll spend the night in cozy Listvyanka.
More Siberian winter memories will be made today, as you visit the local Dog Sledding Center, and go on a dog sled ride through the local Siberian Taiga Forest.  You'll head back to Irkutsk late morning, making sure to stop at the famous Taltsy Architectural Museum.  At lunch, you'll also get to take a horse carriage ride in the snow.  Tonight is your last evening in Listvyanka, so make sure to enjoy a dinner of fresh fish from Baikal itself!
You'll hop on the ice/hovercraft again today as you head to the tiny town of Bolshoe Koty, which is only accessible by boat or foot (or hovercraft!).  You'll explore the village on foot and enjoy lunch in a local family's home.  Once you get back to Listvyanka, you'll head back to Irkutsk and overnight there again, as you prepare to head deeper into Siberia and the heart of Lake Baikal tomorrow: Olkhon Island!
DAY 6: BURYAT BUDDHIST CULTURE/OLKHON ISLAND
Time to hit the road, as today you'll learn about the local Buryat people's culture at the Ust-Orda ethnographic complex. The Buryats are a Mongolian tribe that settled the Lake Baikal area in the 6th century and still hold to their Buddhist traditions today.  You'll get to see a Shaman show, and have lunch in an authentic Buryat yurt.  The land around Baikal is considered the historic home of Buddhism in Russia.  After your time at Ust-Orda, you'll drive along the beautiful frozen shores of Baikal to Olkhon Island.  You'll experience the awesome size of Lake Baikal, as this is a 4-5 hr. scenic ride and helps you understand how big Baikal is; 20% of the world's freshwater reserves are located right here in this lake!  Once you cross the lake (on ice!), welcome to Olkhon Island!  This is the gem of Baikal and truly one of the top remote destinations in all of Russia.  You'll overnight here the next two evenings.
Today will be epic as you explore the northern part of Olkhon Island in private off-road vehicles on the ice! You'll tour the main town Khuzmir, Burkhan Cape and Shaman Rock, Saraysky Beach, and Peshannaya Bay, home of the famous sand dunes/tracts.  It's the dream of every Russian to one day visit this magical lake and island; what a privilege that you got to be here!  Burkhan Cape is considered the most sacred place for Shamans in the Baikal area.  You'll also off-road to Khobai Cape, the northernmost point of the lake.  There should be some photo opportunities of a lifetime today!
You'll enjoy another day "on the lake" today as you head to the southern part of the island, where many of the famous winter ice pictures are taken.  You'll explore Baikal's most photographed winter spot, Ogoy Island, a scenic rock outcropping with ice cracks emanating from it in every direction.  The island also has breathtaking ice caves you'll get to check out.  It's your final evening on the island so enjoy the incredible winter solitude of this remote Siberian region.
DAY 9: LAKE BAIKAL/IRKUTSK
It's your last day on Baikal today.  You'll have a slower morning to do any final exploring, before you say goodbye to Olkhon Island.  It's a long drive back to Irkutsk so soak in those final views of majestic Baikal.  Make sure to pick up any souvenirs and a final dinner of fresh fish tonight in Irkutsk!
You'll be transferred to the airport this morning for your flight home.  We hope you had an unforgettable Baikal experience!
Talk to a Russia expert today:
Easy & Smooth Planning Process!
4 Steps to Your Perfect Trip:
What you'll see on the "Lake Baikal on Ice" tour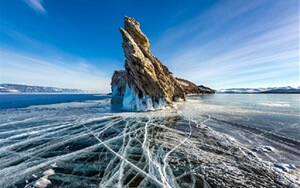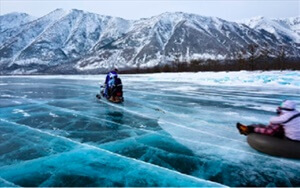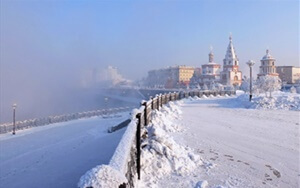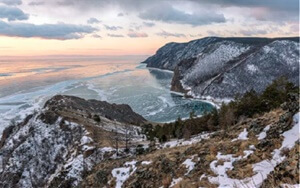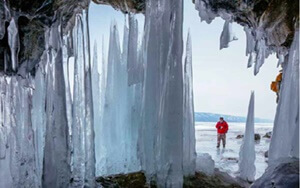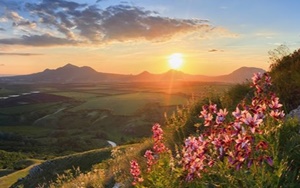 10 days of private transportation
9 nights of authentic Russian boutique hotels
English-speaking guide
Breakfasts everyday
Lunches on Days 4-8
Excursions
All Entrance Fees
Heart of the Caucasus Pricing
| Tour Level | 2 People | 3-4 People | 5-6 People |
| --- | --- | --- | --- |
| | | | |
| | | | |
***Trips to Lake Baikal are available year-round, but guaranteed conditions on the ice (as shown in included pictures) is only between January 25 – March 15
*All prices are in US Dollars, per person. For single rooms, a single supplement fee will be applied.
Contact us for larger group pricing.
Request a quote and start planning your authentic Russia trip with an expert now: