3 COUNTRIES IN 2 WEEKS:
AZERBAIJAN, GEORGIA, & ARMENIA!
14 DAYS / 13 NIGHTS::
3, 4, & 5 Star Options Available
The perfect first trip to the South Caucasus!
DAY 1: ARRIVAL IN AZERBAIJAN
Welcome to Azerbaijan!  An English-speaking guide will meet you at the airport and get you settled safely into your hotel.  If you are up for it, you may have time to do some exploring on your own this evening, to take in the sights, sounds, and smells of Baku.  Regardless, have a great first night of sleep, and prepare for a fantastic two weeks!
After breakfast this morning, your Caucasus adventure begins!  Baku has all the amenities of a cosmopolitan 21st century large city, while maintaining its historic place on the Silk Road and in history.  You'll visit various museums, pilgrimage sites, and more, while even indulging your shopping appetite with Azeri carpets.  Baku rests right on the shore of the Caspian Sea so make sure to dip your toes in at least once while here! 
DAY 3: GOBUSTAN & ATESHGAH, AZERBAIJAN
Hopefully your body is adjusting to jet lag well by today, as you'll have a unique experience today: mud volcanoes and fire temples!  Today's short journey south of Baku will take you WAY back in history, as you go to Gobustan National Park, home to some of the world's oldest cave art and a UNESCO World Heritage site.  This Martian-like desert landscape also has mud volcanoes probably unlike anything you've experienced before.  On your way back to Baku, you'll visit the Fire Temple of Ateshgah, where a flame burned naturally for centuries until finally going out in 1969; scholars are unclear on whether this site was a Zoroastrian or Hindu place of worship.  It's your final night in Baku, so make sure to enjoy a nice stroll through its many streets before heading deep into the Caucasus Mountains tomorrow! 
As much as we all love big  cities, today you head to the "heart" of the Caucasus region: the Greater Caucasus Mountain range!  Along the winding road through Azerbaijan's countryside, you'll visit a 15th-century mausoleum to a Sheikh, followed by lunch with local dishes and tea.  Your final destination today is Sheki, an ancient stop on the Silk Road famous for its architecture and "caravanserai" inns where merchants used to barter, trade, and sleep on their journeys.  It's your first of several consecutive nights at the foot of the Caucasus range, so enjoy the beautiful night sky and fresh mountain air!
DAY 5: KAKHETI & TELAVI, GEORGIA
Say goodbye to Azerbaijan this morning as you cross the border to Georgia, country #2 of your Caucasus Caravan tour.  There are many similarities (mountains, hospitality) between these  two countries, but noticeable differences as well (more churches than mosques, more pork vs. lamb).  And you'll learn on Day 1 in Georgia, the importance of wine, especially in the Kakheti region.  You'll tour a wine factory today, do some wine-tasting, before arriving in Telavi for the night.  
You'll The next two days are a kind of figurative and literal "peak" of your Caucasus trip, as you head UP into the Caucasus Mountains to the highest point of your trip, at 2,200 meters (7,200 feet) above sea level.  The road is windy but beautiful, also known as the Georgian military highway, which served as a key transport route through the mountains esp. in the 19th and 20th centuries w/ the Russian Empire & Soviet Union.  On your way to Guduari, you'll visit the 15th-century Ananuri Fortress Complex, which sits on the beautiful Zhinvali Lake.  Guduari is Georgia's most popular ski resort, and one of Europe's hidden gems being discovered more and more each year.  Most visitors to Georgia rave about the local food, so we would be remiss to not mention the incredible Georgian cuisine you'll be enjoying on your trip: cheese bread (khachapuri), meat dumplings (khinkali), soup (kharcho), and so much more!
 You'll head straight to the heart of the Caucasus Mountains today as you visit iconic Mt. Kazbek, which towers above the surrounding peaks at 5,047 meters (16,512 feet).  Your visit to Gergeti Church above the village Stepantsminda is sure to be seared in your memory as one of the most beautiful places you've ever visited, with the Caucasus mountain range surrounding you on all sides.  The Military Highway goes all the way to the Russian border and really helps you envision the conditions that people used to travel in.  Depending on how adventurous you are, there are multiple activities you can do in the Kazbegi region, including hiking to waterfalls or glaciers, horseback-riding, etc.  You'll spend the night in Guduari again.
DAY 8: GORI, MTSKHETA & TBILISI, GEORGIA
You'll be leaving Georgia's beautiful corner of the Caucasus Mountains today, but it still promises to be a memorable day, as we pack it full with exciting adventures, including: a 6th-century cave town (Uplistsikhe), Joseph Stalin's hometown of Gori, Georgia's ancient capital city Mtskheta including two UNESCO sites, and more.  Georgia's capital Tbilisi is where you'll spend the next two nights, and has quite a different feel from Baku, so we'll be interested to  hear your thoughts comparing these two capital cities.  
Welcome to Tbilisi!  In recent years, Tbilisi is enjoying lots of positive press as one of the coolest cities in Eastern Europe, or the "New East", as some call this part of the world.  Enjoy your one full day here to the fullest with a guided city tour visiting some of Tbilisi's most iconic spots: ancient churches, historic baths/saunas, an Old City that rivals any of Europe's oldest cities, and more.  Tbilisi has something for everyone, so you're sure to be charmed in your time there.  The city is quite hilly and so many of the views from restaurants are very memorable.  It's your final day in Georgia, as we head south to Armenia tomorrow!
DAY 10: LAKE SEVAN AND YEREVAN, ARMENIA
Say goodbye to beautiful (and tasty!) Georgia this morning as you head to the third and final country of your Caucasus Caravan: Armenia!  Despite Armenia being landlocked, it's a country with incredible beauty and believe it or not, you'll head to Armenia's famous (and only) BEACHES today at Lake Sevan in the Lesser Caucasus Range.  Lake Sevan is the wider Caucasus region's largest freshwater lake and breathtaking in its beauty with turquoise waters and surrounding mountain peaks.  On the way to Sevan and at the lake itself, you'll visit several historic monasteries dating as far back as the 9th century.  Armenia rivals Georgia in its ancient Christian history, as the two countries were the first two countries in the world whose kingdoms officially adopted  Christianity as the national religion.  After a long day of crossing the  border, heading into the mountains, and back down, you'll be glad to arrive in Armenia's beautiful capital, Yerevan, where you'll spend the next 4 nights to wrap up your epic Caucasus trip.
 For your first full day in Armenia, you'll enjoy a city tour of its ancient capital, Yerevan.  You'll visit two UNESCO sites as well as a somber visit to the Armenian Genocide Museum in Tsitsernakaberd.  With Yerevan's majestic view of Mt. Ararat overlooking the city, it's really an incredible way to wind down your two weeks in the Caucasus.  Armenia food and wine is unique in its own right, so here's to more enjoyable cuisine in Yerevan!
DAY 12: MT. ARARAT & ARENI WINE REGION, ARMENIA
History, culture, and cuisine continue to make up your days in the Caucasus as you head south from Yerevan this morning towards Mt. Ararat, and the Areni region.  You'll visit the historic Khor Virap and Noravank Monasteries as you drive through Armenia's fertile heartland of vineyards on your way to Areni, the most famous wine-making village.  You'll tour historic wineries here as well as do some wine-tasting before heading back to Yerevan late afternoon.
DAY 13: GARNI & GEGHARD, ARMENIA
Can you believe it?  It's your final full day in the Caucasus.  What a whirlwind these two weeks have been.  You'll wrap up your trip today with two fascinating historical sites.  Garni Temple is the only remaining structure from Armenia's pre-Christian history, and was dedicated to the sun god Mihr.  It was built in 76 BC and used as a summer residence for Armenian kings.  How's that for historic?!  Speaking of BC (Before Christ), you'll wrap up your historical touring  today with a visit to the Geghard Monastery, where the purported spear used to pierce Christ's side on the cross, is preserved.  This is also a UNESCO World Heritage site.  You'll enjoy a farewell dinner tonight in a traditional Armenian restaurant.  
DAY 14: DEPARTURE FROM ARMENIA
 You'll be transferred to the airport this morning for your flight home.  Thanks for visiting and experiencing just a drop of what the Caucasus has to offer!  We hope to see you again, possibly exploring more of the western side of Georgia towards the Black Sea and Svaneti.  Nakhvamdis! (Goodbye in Georgian)
Talk to a Caucasus expert today:
Easy & Smooth Planning Process!
4 Steps to Your Perfect Trip:
What you'll see on the "Caucasus Caravan" tour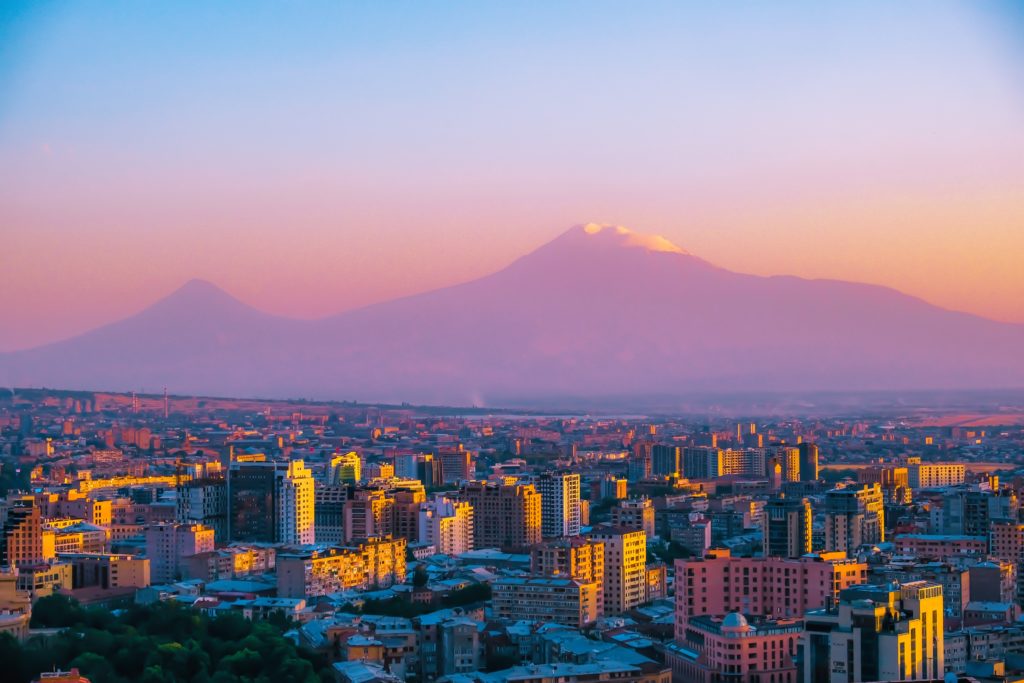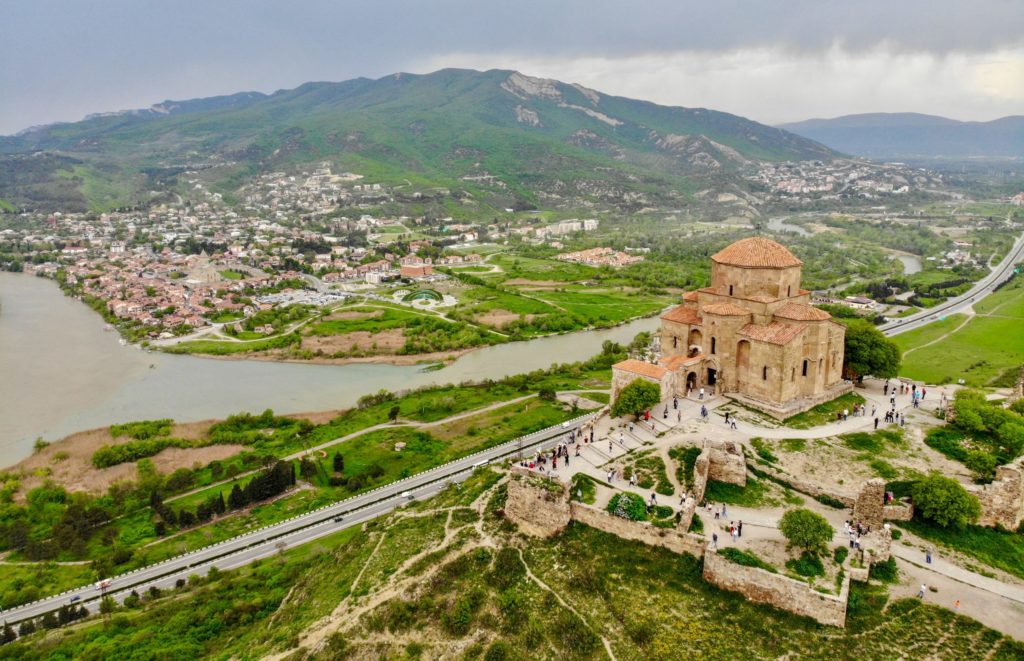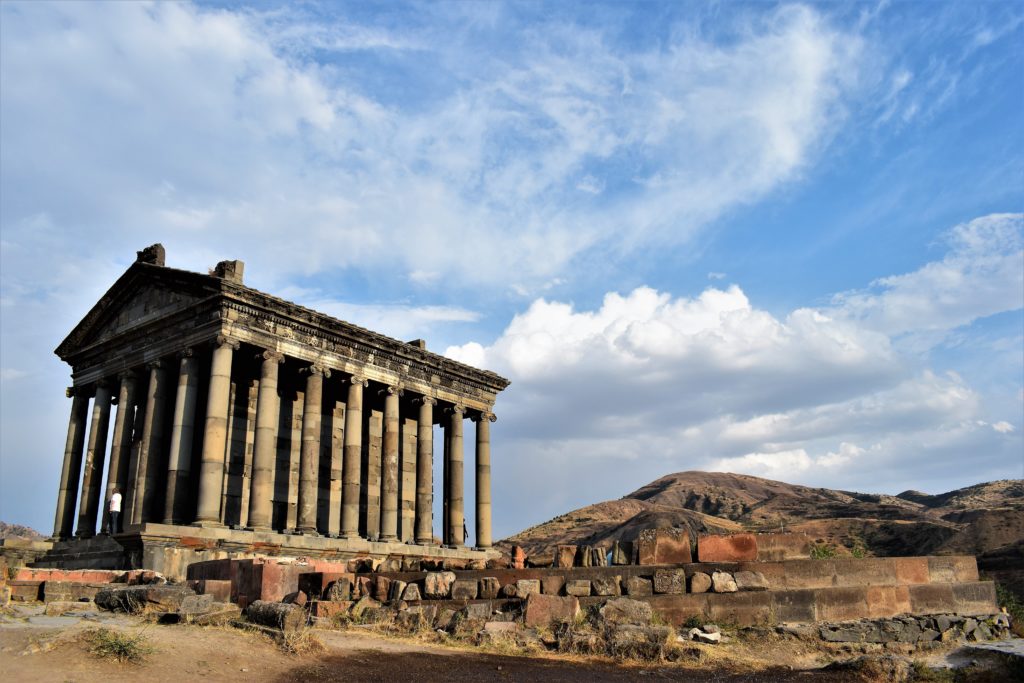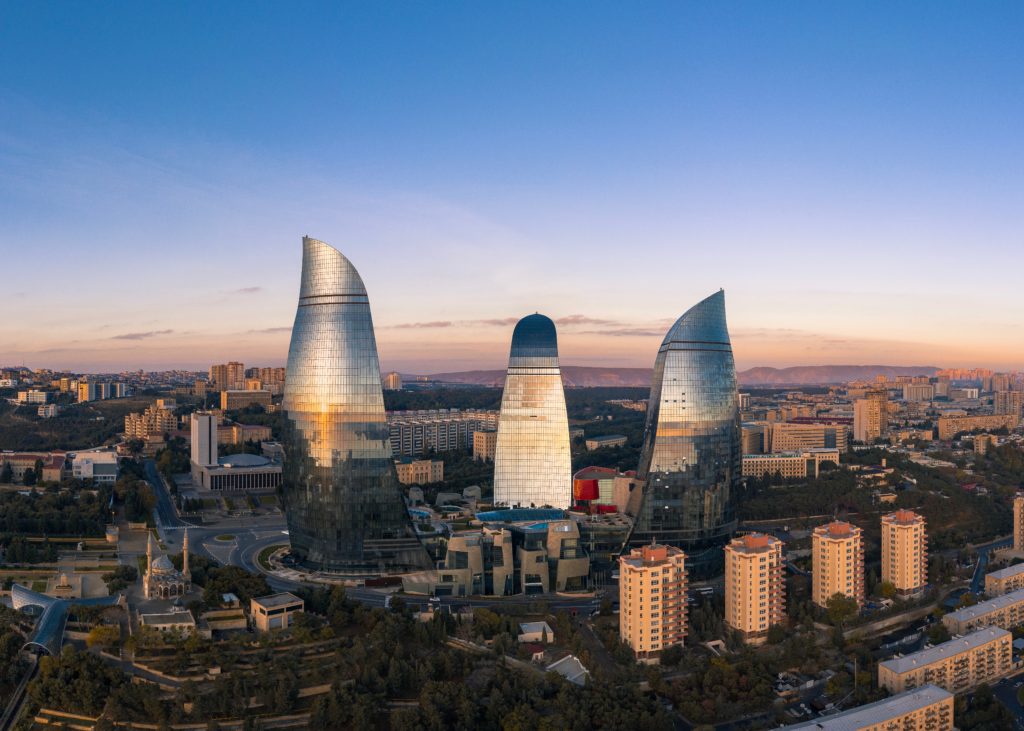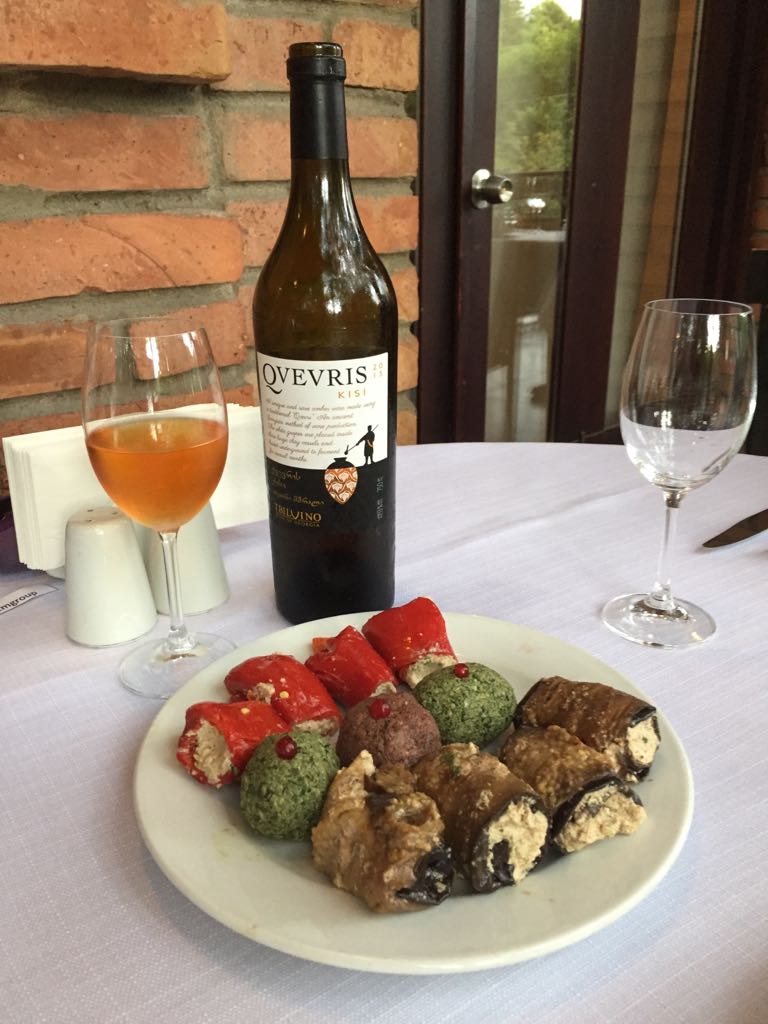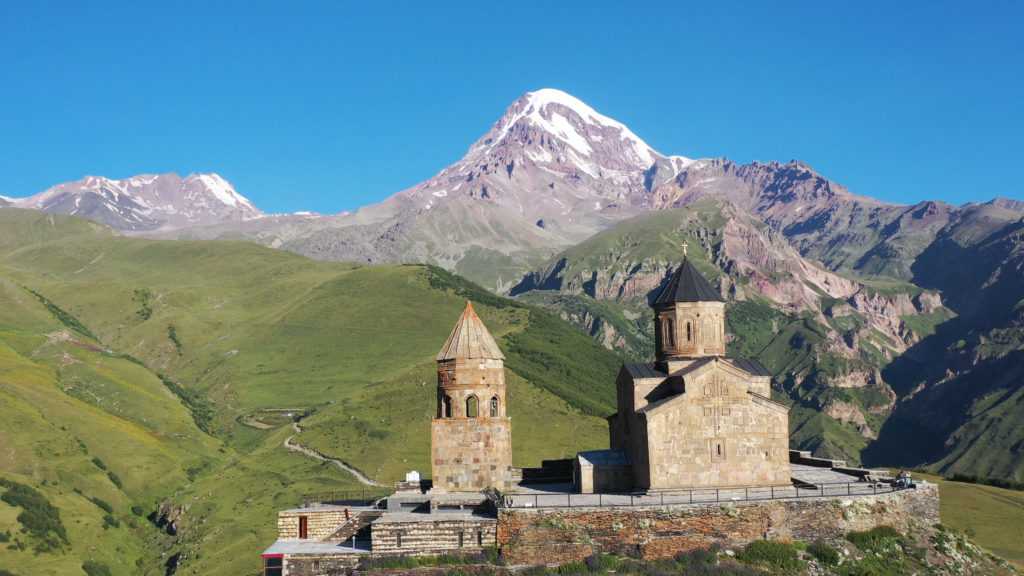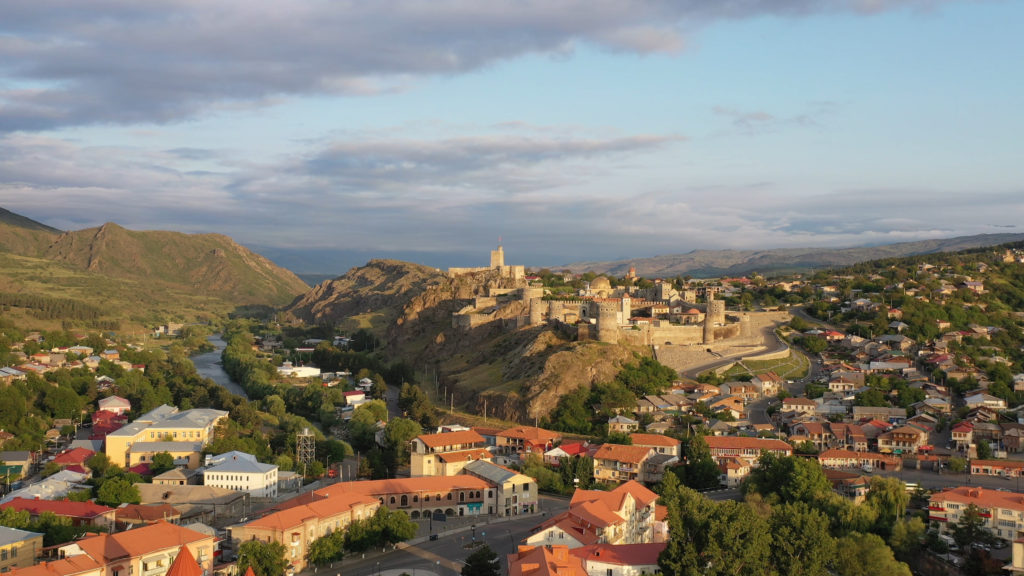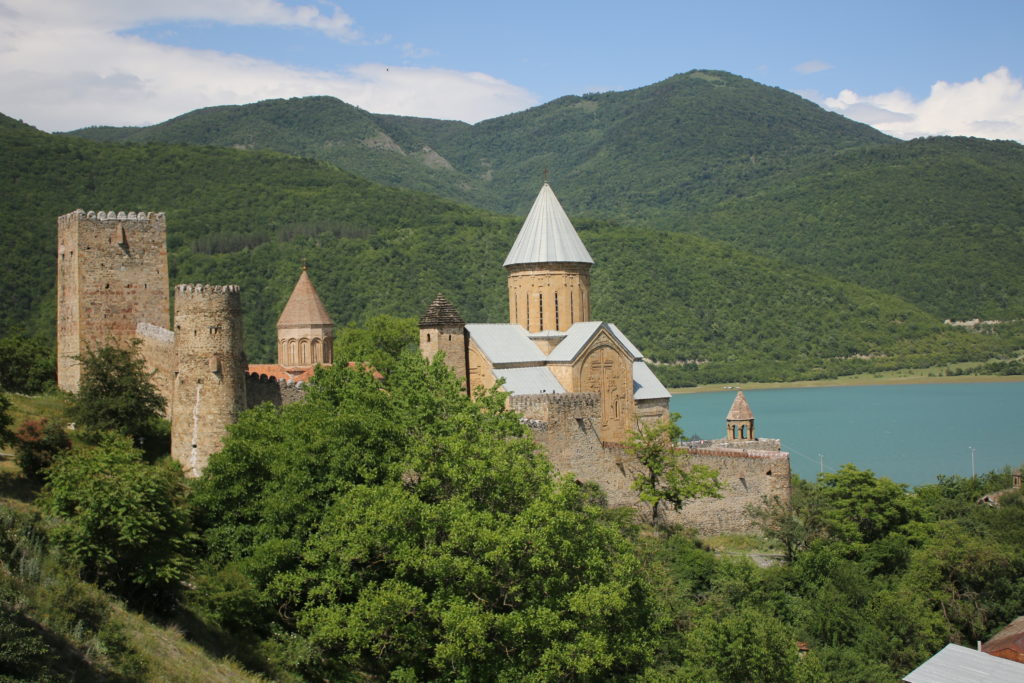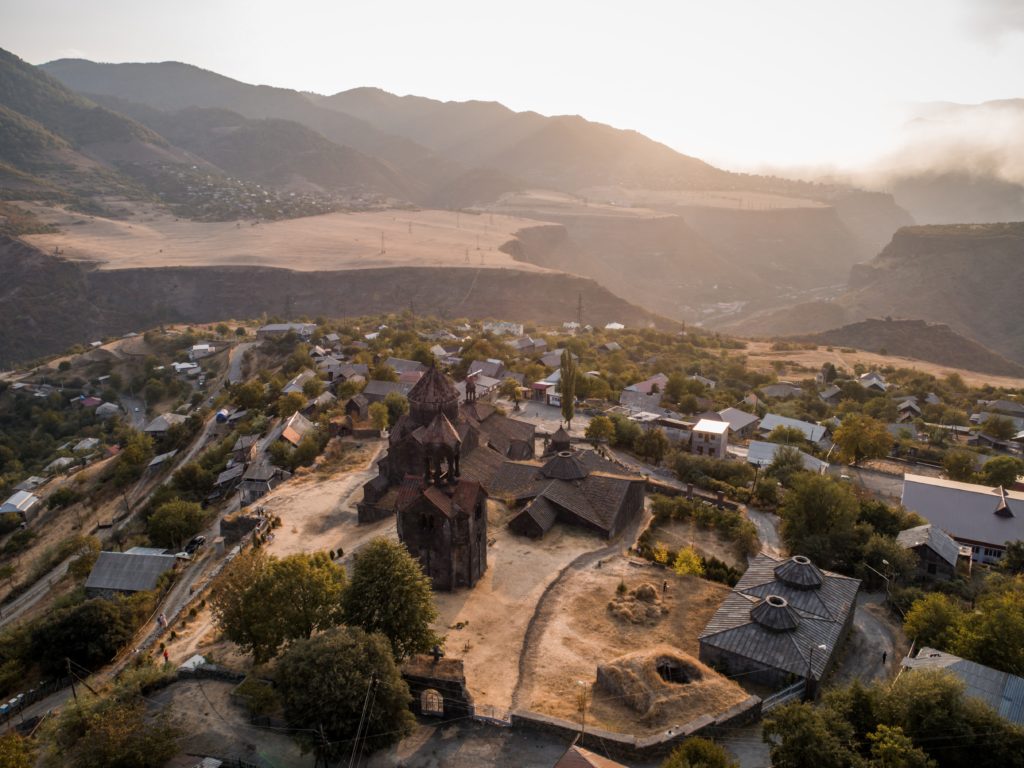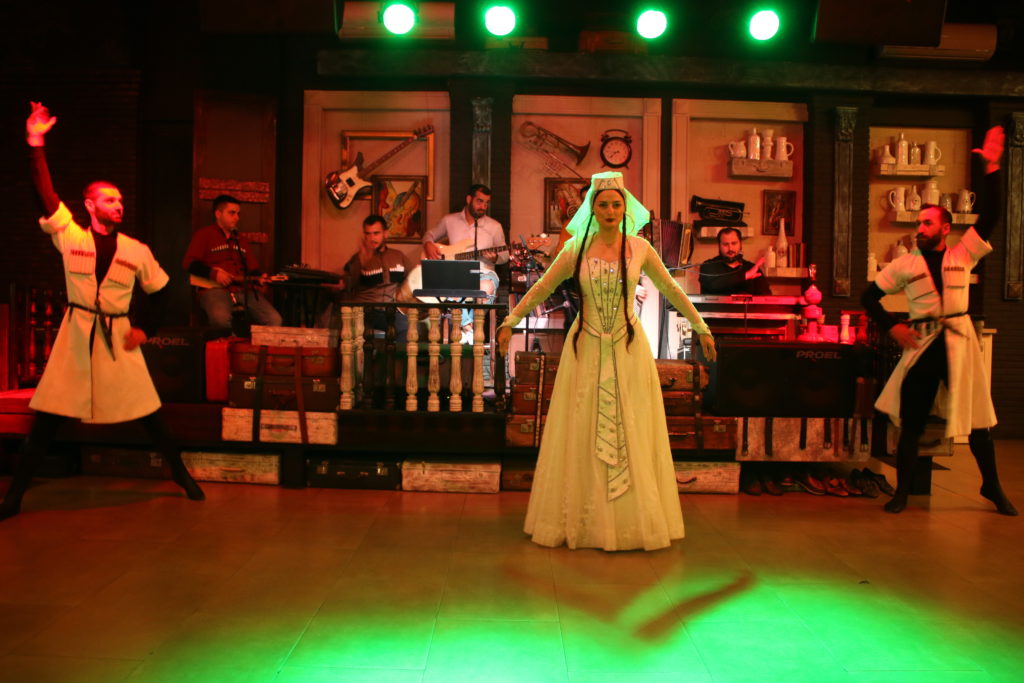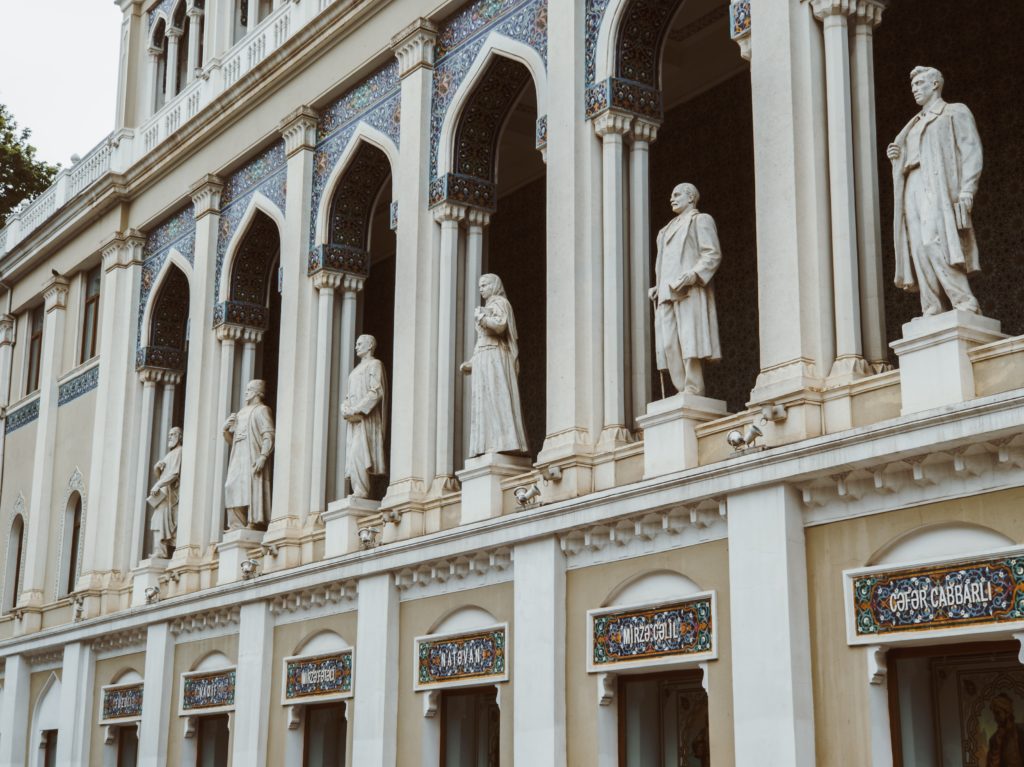 All transportation (including airport transfers)
Border crossing assistance between Azerbaijan/Georgia and Georgia/Armenia
12 full days of touring Azerbaijan, Georgia, and Armenia with an English-speaking guide
All excursion and entrance fees
All Breakfasts
4 Lunches and 5 Dinners included (see itinerary)
Unlimited drinking water
Lodging – 13 nights in hotels
Extensive pre-trip planning, customization, & customer service
| Tour Level | 2 People | 3-4 People | 5-6 People |
| --- | --- | --- | --- |
| | | | |
| | | | |
| | | | |
* As a US based company, all prices are in US Dollars, per person. We accept payment in US dollars at the exchange rate in effect at the time of payment. Refer to our Payment Options document for further details.  
*For single rooms, a single supplement fee will be applied.
*Contact us for larger group pricing.
Request a quote and start planning your authentic Caucasus trip with an expert now: