As often is the case with off-the-beaten-path destinations around the world, they can be well-known by foreigners for all the wrong reasons. Dagestan is a great example of this. In the late 1990s and early 2000s, Dagestan began registering on foreigners' radars because of the spillover of the Chechen wars into the region. Then, once things stabilized post-war, Dagestan's wrestlers hit the international scene, reaching its pinnacle when Khabib Nurmagomedov defeated Irishman Conor MacGregor for the UFC world championship in 2018. Today, most foreigners associate the word "Dagestan" with Khabib and his sheep wool hat.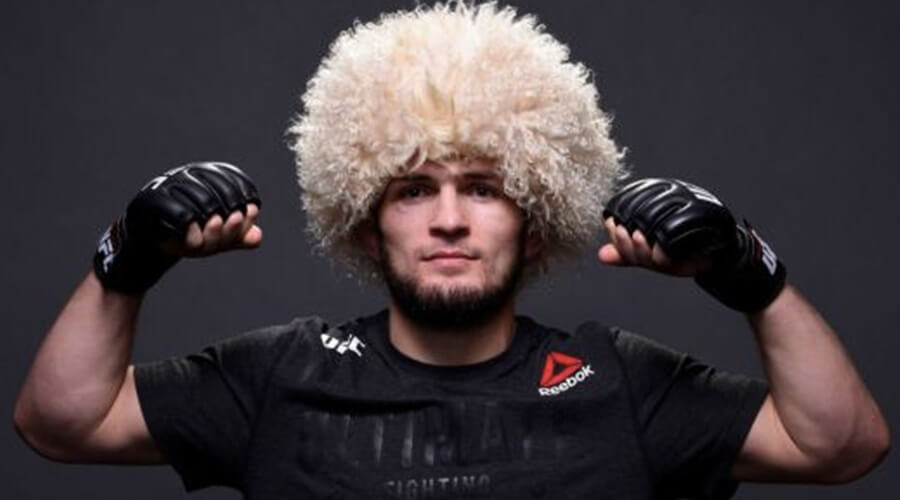 While Khabib's rise to fame is to be commended, all of this hides what Dagestan actually could be best known for: its incredible mountain landscapes, fascinating history, linguistic diversity, and incomparable hospitality towards guests. As biased as we are towards the entire North Caucasus, we have to be honest: Dagestan is the gem of all travel destinations in the region. Why, you ask? Keep reading to find out!
1. How do I get to Dagestan?
Dagestan used to be a stop on the ancient Silk Road, and as a result is located at the crossroads of Europe and Asia. There are a plethora of ways to get there, all of which may be part of the adventure itself.
A. Plane – There are daily domestic and international flights to Dagestan's capital, Makhachkala (MCX). As is to be expected, there are a good number of daily flights from Moscow, from all 3 airports (SVO, DME, and VKO). You can also fly here from Rostov, Ekaterinburg, St. Petersburg, Kazan, Tyumen, and several other destinations within Russia. International flights come and go regularly from Istanbul (Turkey), Dubai (UAE), and Aktau (Kazakhstan). Check flight sites for exact departure cities and frequency of flights.
B. Train – Dagestan is Russia's furthest southern republic and therefore borders Azerbaijan. There are regular trains to/from Baku, that you can take to/from Derbent and Makhachkala (provided you have visas to both Russia and Azerbaijan). Regular trains to Makhachkala can be taken from St. Petersburg, Moscow, and Mineralni Vody in the Central Caucasus. Be prepared, though; a train from St. Petersburg to Makhachkala will take around 40-50 hours!
C. Car – Despite being bordered to the east by the Caspian Sea, and to the south/west by the seemingly impenetrable Caucasus Mountain range, Dagestan is still very accessible by car. From the south, cars are allowed to cross the Russian border into Dagestan from Azerbaijan. From the north, Dagestan is accessible by highway both from the Astrakhan Oblast and Stavropol Krai. From the west, there is a well-traveled federal highway from Chechnya that enters Dagestan at Khasavyurt. Last but not least, there are mountain roads into Dagestan, most notably from Chechnya at Lake Kezenoy-am, into the Botlikh district. Most entrances to Dagestan will have federal security checkpoints, which is normal for the greater Caucasus region. As long as your documents are in order (passport, visa, registration w/ hotel, migration card), all will be good.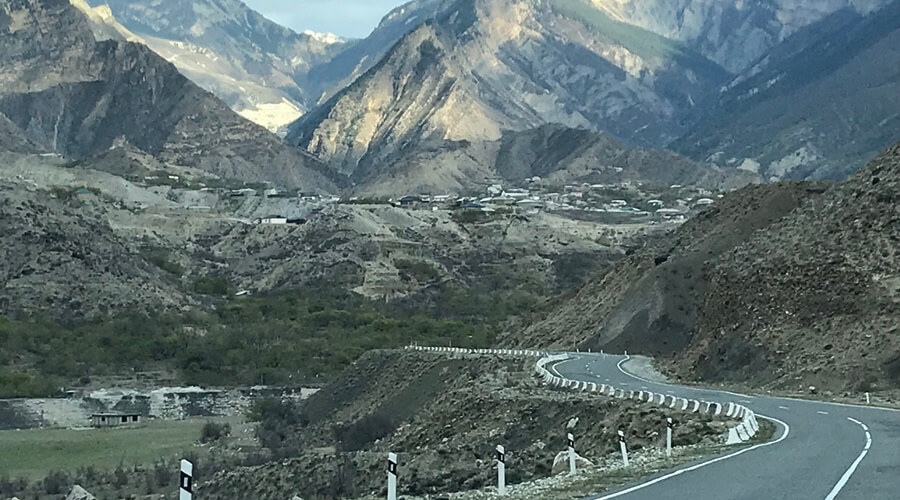 D. Ferry/boat – Despite the incredible access the Caspian Sea gives to Dagestan from so many countries, there is NO cruise or ferry option to Dagestan from Turkmenistan, Azerbaijan, Kazakhstan, Iran, or another city from within Russia. In fact, beyond the obvious beach swimming areas on its coast between Makhachkala and Derbent, Dagestan's coast is considered a "border zone" with these foreign countries, since the Caspian Sea territory does not all belong to Russia. Therefore, stick to the previously discussed options as you plan your travel to Dagestan.
2.  Where should I stay? 
Dagestan is a big place to visit with lots of places to stay, so the options here are endless.  Hotel and guesthouse infrastructure is developing rapidly both in the lowlands and the mountains; this is a positive sign of Dagestan's response to increasing numbers of tourists every year.  Here are some basic recommendations of places to stay in the main cities as well as more remote parts of the mountains:
A. Makhachkala – As Dagestan's capital and the largest city in the North Caucasus, it's natural that you'll spend at least one night here. Recommended hotels include but are not limited to:
a) 4-star – Comfortable and luxurious – Jacques
b) 3-star – Lower budget, in the city – Central City, 1001 Nights, Krepost
B. Derbent – The most ancient city in the Caucasus is a must-visit in Dagestan. Here are two quality hotels for your stay there: Alie Parusa (on the Caspian Sea Coast) and Evropa (city center).
C. Gunib – This mountain town is a great option to base out of for several nights, as you visit surrounding villages and locations including Chokh, Gamsutl, Gotsatl, Goor, Khakhib, and more. Gunib has new hotels being built each year, so you're sure to find lodging here. A comfortable hotel with large grounds is Orlinoye Gnezdo in Gunib itself, as well as the quaint EtnoDom in nearby Chokh.
D. Akhti – This mountainous Lezgi village in the far south of Dagestan is not on most tourists' radar, but is accessible from Derbent (1.5 hrs.), and has a comfortable 3-star hotel Samur to stay at.
E. Guest Homes in Mountain Villages – Many tourists will stop in Dagestan's villages, well-known for their hand-made goods, such as knives, pottery, silverware, woodwork, carpets, etc. In almost all of these villages without fail, you'll find a guest house happy to receive you, whether in Kubachi, Balkhar, Untsukul, etc. Most of these guesthouses either have an Instagram page or little to no English-language advertising, and can be difficult to find if you don't speak Russian or aren't traveling with a local guide/tour agency. If guesthouses are full, a local Dagestani will often be very happy to receive you as a guest in their home, as this is considered a great honor among the hospitable people of the region.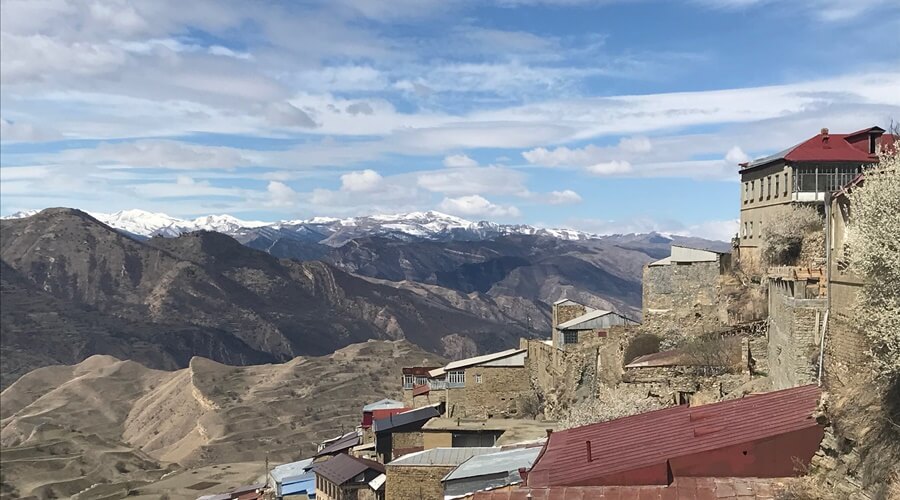 3.  Top cities to visit?  
Dagestan has a fairly well-traveled tourist circuit, particularly between Makhachkala and Derbent. While we highly recommend visiting the lowland cities, the riches of the region is up in the smaller towns and villages of the mountains. As a result, we'll widen our definition of "city" to include some of the more bustling mountain towns as well:
A. Derbent – Any trip to Dagestan must include time in Derbent, one of Russia's oldest cities. While the "official" number is 2500 years old, many locals say Derbent's origins go back 5,000 years! It truly is a city unlike any other in Russia, having an ancient feel with its narrow cobblestone streets, old fortresses and religious buildings, and extremely diverse population (Lezgins, Tabasaran, Azeris, and many others). Derbent sits right on the Caspian Sea coast, just 30 minutes from Azerbaijan, and allows for quick access to Dagestan's beautiful mountains. There is also a thriving market for the famous Tabasaran carpets. Do not miss your chance to experience Derbent!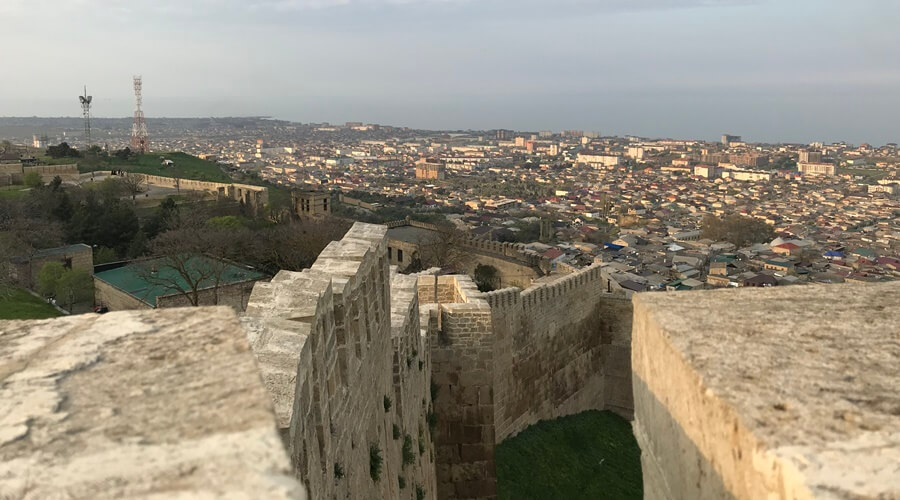 B. Gunib – If you have several days, get to Gunib as quickly as you can to explore this incredible town and the surrounding region. Gunib is an Avar village, and is the historical site of battles led by Imam Shamil, Dagestan's revered spiritual and military leader from the 19th century. Imam Shamil led the resistance against Russia in the Russian/Caucasus War, particularly from 1829-1859. Gunib was built right on the side of a mountain, which its windy roads from bottom to top attest to. There are many day-trips accessible to neighboring regions, abandoned villages, natural attractions, etc. Gunib is approx. 4-5 hrs. from both Makhachkala and Derbent.
C. Kubachi – This famous Dargin village is most well-known for the beautiful pottery produced by local women and sold around the world. If you have the opportunity, take a master class and try your hand at this craft. Kubachi is one of many Dagestani villages that is worth your time to visit, meet the local people, enjoy the beautiful nature, and learn about their culture, language, and traditions.
4.  Best local foods to try?
Where to start in this republic of 35+ different nationalities, each with their distinct spin on popular, common dishes? We humbly submit these three recommendations, with the understanding that there are probably ten times as many Dagestani dishes that deserve to be on this list!
A. Khinkal – To not include a meat and bread dish in this list would amount to blasphemy among locals. 🙂 Khinkal is Dagestan's version of the dumpling, and there are many different versions depending which nationality is cooking it: Avar, Dargin, Lak, etc. The basic ingredients remain the same, though: beef and bread, prepared with lots of love. This dish can take a while to prepare but is well worth the wait!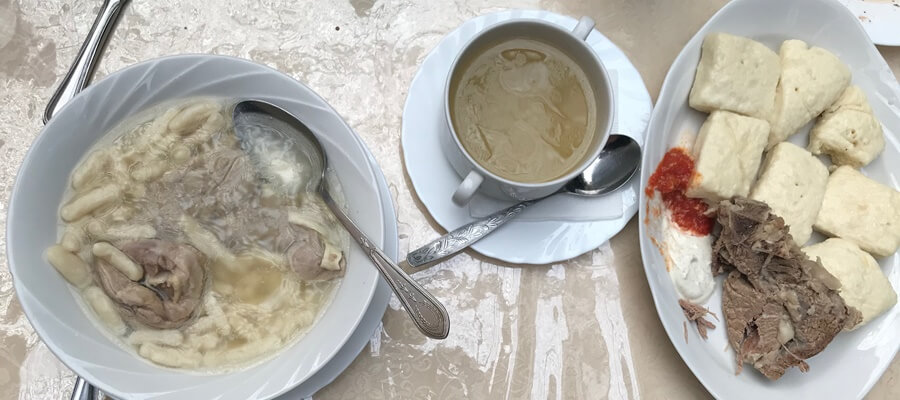 B. Urbetch – This is unique to Dagestan and is essentially Caucasus peanut butter, made out of ground-up seeds! There are many different flavors you can find urbetch in, but all of them will stick to the roof of your mouth. 🙂 Very healthy and goes great on apple slices!
C. Kurch – While often a stereotype of Russians is that they all eat buckwheat oatmeal (i.e. grechka), in Dagestan, there is a much tastier option: kurch. Kurch is an Avar dish, oatmeal made from dried apricots (grown locally in the mountains). Just picture yourself taking in a beautiful Caucasus sunrise in Dagestan's mountains, while eating some apricot oatmeal. Enough said!
D. Oven-baked bread – Also unique to Dagestan in the Caucasus region, you can find bread cooked in traditional under-ground ovens, plastered to the side of the round, circular walls. Bread is an essential part of the Caucasus diet that goes with meat, soup, and really any sit-down meal. A warm loaf of bread fresh out of a Dagestani oven will be something you won't soon forget! These ovens can be found among different Dagestani peoples/villages in the mountains, particularly among the Tabasaran people in southern Dagestan.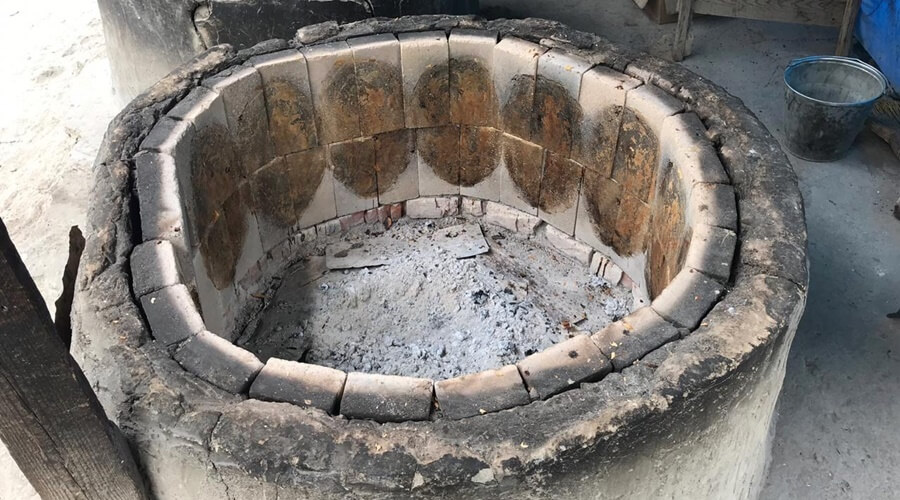 5.  What are the best hole-in-the-wall restaurants?
We strongly recommend you rely on your local guide's recommendations for good restaurants to visit, and when you feel comfortable, accept a local's invitation to dine in their home! With that being said, here are two restaurant options for Makhachkala, Dagestan's bustling capital:
A. Int– This restaurant is an ethno-cafe with authentic national decorations throughout, as well as traditional Dagestani dishes to try. We highly recommend trying the Lak dish of kyachi here, or, filling meat pies.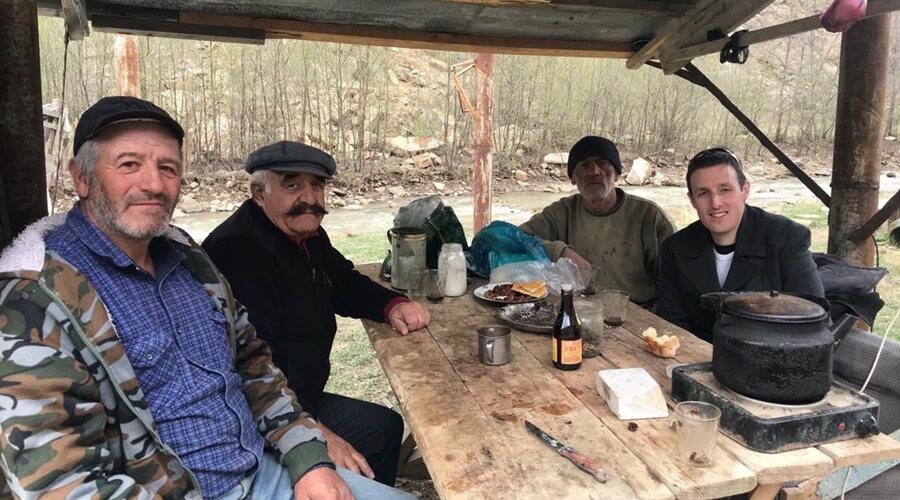 B. Hutorok– All of this restaurant's ingredients are grown in the Avar mountain villages of Chokh and Sogratl, which makes for some mouth-watering dishes!
As in most restaurants in the North Caucasus, if you don't speak Russian, you may have difficulty communicating with your waiter, and there may not even be an English-language menu. This is part of the experience in a developing tourism infrastructure. Enjoy the ride and, especially, enjoy the food!
6.  What are the top 3 must-see destinations in Dagestan?
In reality, there is probably more like a top 33, or even top 53 list, but this is a good place to start. 🙂
A. Derbent – If there is one city to visit in the region, Derbent is the one, without a doubt. From the 8th-century Shia mosque, to the 5th-century UNESCO citadel/fortress Naryn-Kala, to the local cemetery of 10th-century Muslim martyrs, Derbent oozes with ancient history and feels like a country of its own.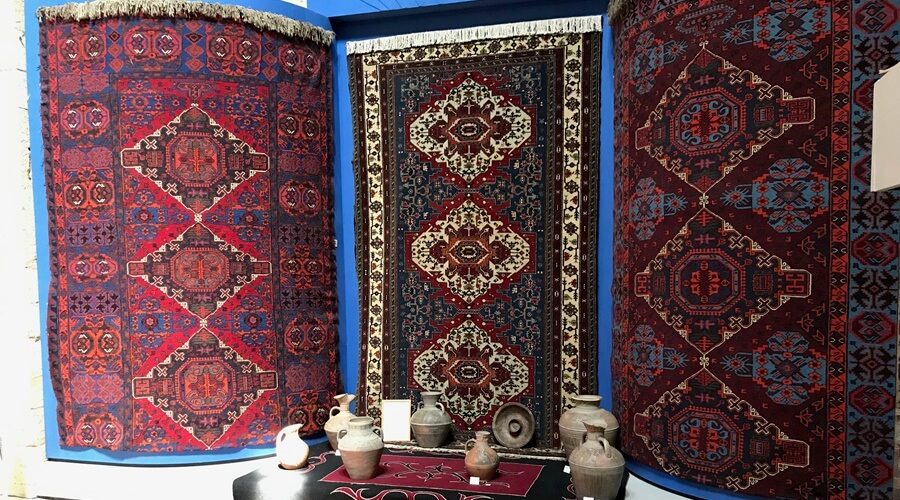 B. Sulak Canyon – Did you know Dagestan is home to a river canyon even deeper than the Grand Canyon in the US? The Sulak Canyon is less than 1.5 hrs. from Makhachkala, and is probably the most Instagrammed destination in Dagestan. You will love the view of the teal-colored Sulak River snaking its way through the foothills on its way to the Caspian Sea. If you have the chance, make sure to take the gravel road to the river itself, and take a boat ride, seeing beautiful waterfalls and enjoying fresh fish for lunch.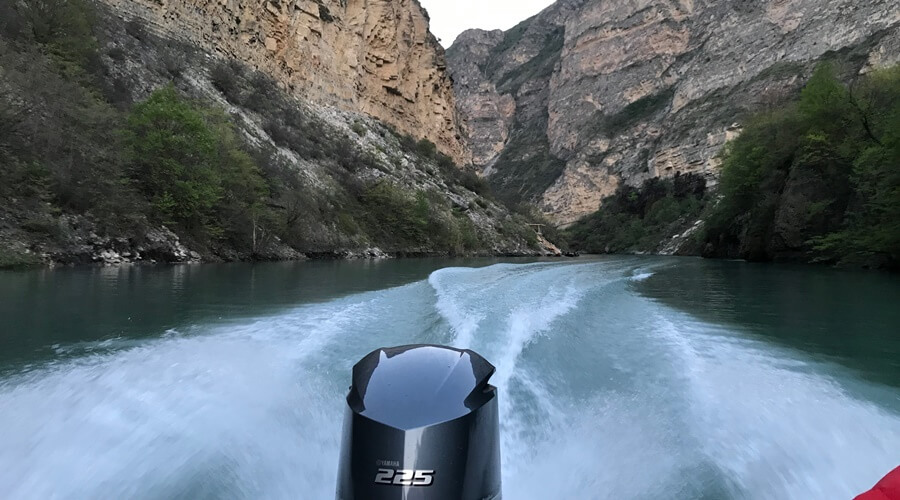 C. Craftsmen villages – To only list one of these villages would be a disservice to the rest. Dagestan is famous for its unique hand-made goods, many of which are made in only one village in the entire republic.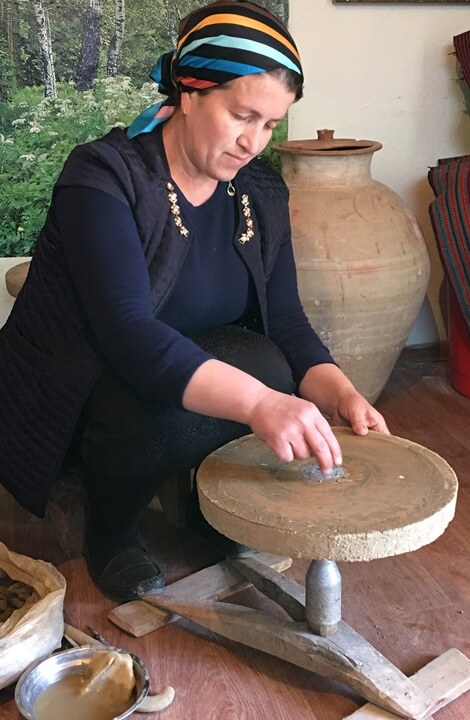 This includes, but is not limited to Kubachi (pottery), Untsukul (woodworking, vases), Balkhar (silversmithing, jewelry), Kizlyar (knives), Khuchni (carpets).
All these villages are within a couple hours of either Makhachkala or Derbent. Deeper into the mountains you can find hand-made burkas and more.
7.  What are the top 2 off-the-beaten-path destinations to visit?
75% of Dagestan IS off-the-beaten-path :), even for Dagestanis who reside in the lowlands. More than any other Caucasus republic, Dagestan's mountain gorges are chock-full of small villages that dot the mountain landscape, places where ancient cultures and languages continue to be preserved, such as the Rutul, Andi, Chamalal, Tindi, and more.
While we have only experienced the tip of the iceberg, here are some mountain gems we recommend you seek out!
A. Abandoned villages – For better or worse, Dagestan's mountains have a lot of abandoned villages, mainly due to families moving to the cities/lowlands. Several of these have gone viral in recent years due to Instagram and drone footage on Youtube. Here are 3 villages you can do day-trips from Gunib or Chokh to, that will take your breath away: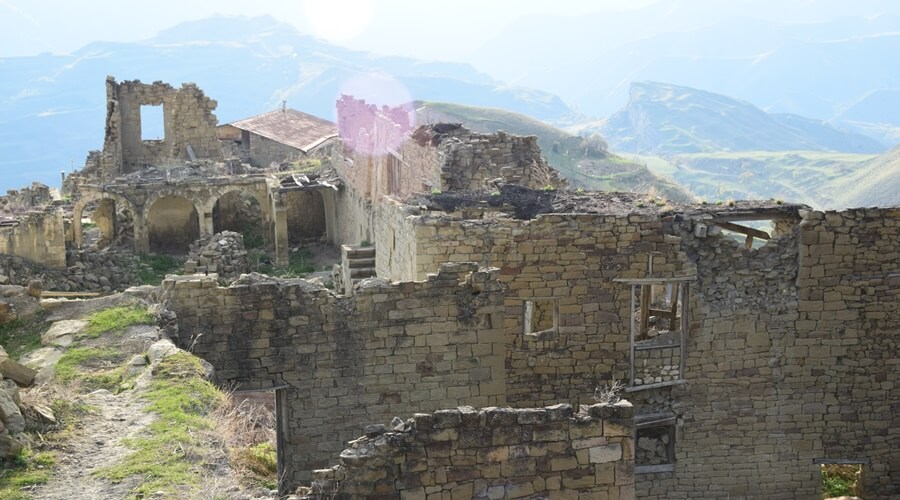 -Gamsutl – This is probably the most famous of abandoned Dagestani villages, called the Machu Pichu of Russia. With an off-road vehicle, Gamsutl is about a 45 minute drive from Chokh (not far from Gunib), followed by a 1.5 hr. hike on foot up to its perch at the edge of a mountain. You can stroll through this village that hasn't had any residents since the 1950s, as well as capture fantastic pictures and videos from above.
-Goor – This abandoned village is about a 2.5 hr. drive from Gunib in the Shamilsky region. Once your vehicle has climbed the windy gravel road up to New Goor (where the descendants of Old Goor now live), it's just another 20 minutes up to Old Goor. Goor has several watchtowers still standing and its ruins back right up to the edge of a cliff with an incredible view of the surrounding region's villages and landscape. Experiencing a sunset here is really something special, as Dagestani village lights pop up as far as the eye can see.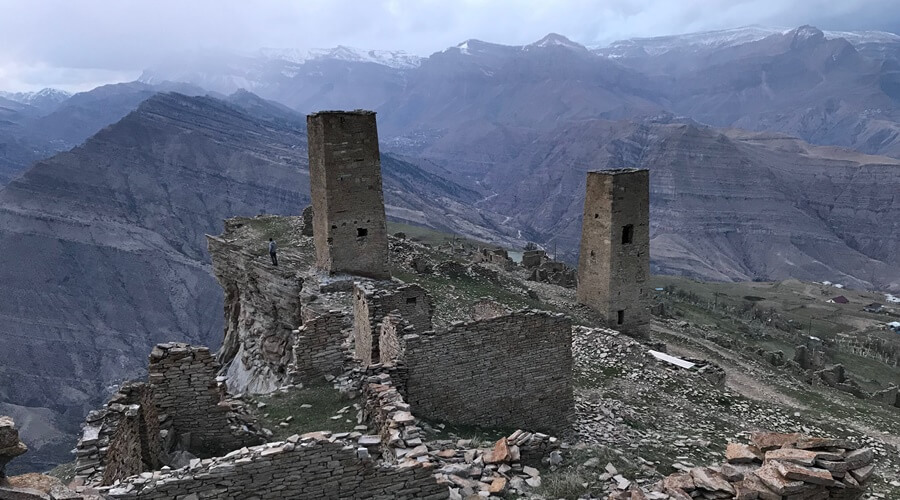 -Kakhib – This tower-filled village is Goor's neighbor, and so you can visit both villages in the same day. Kakhib was built literally on the side of a steep mountain; the engineering ingenuity of ancient Dagestani builders is really to be commended. You can hike through this abandoned village as well, and learn about its history from locals who love to meet its visitors and treat them to a cup of chai (hot tea).
8.  Do I need a border permit to visit Dagestan?
As with any location within Russia, many foreigners are required to have a visa to enter the country, so make sure you take care of this first. Most of Dagestan's well-known tourist destinations are accessible without a border permit, except for some of the more remote parts of the region in the South, that border Azerbaijan and Georgia.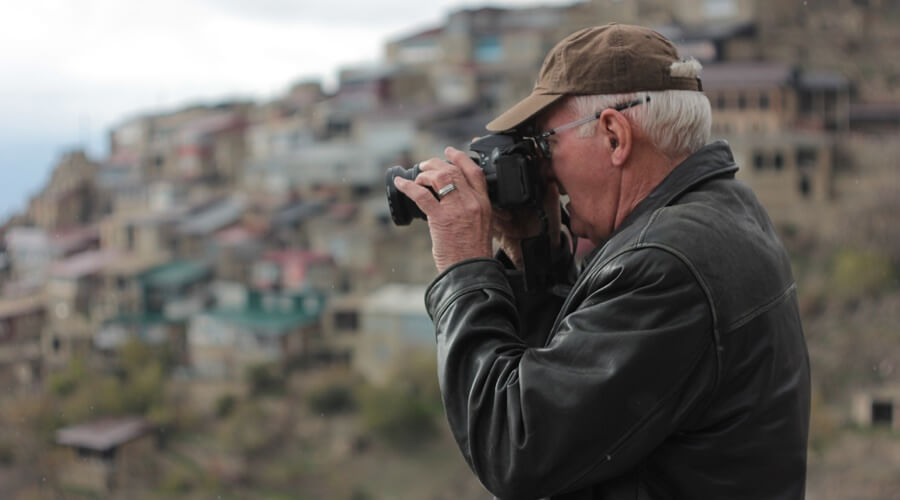 To avoid any accidental mis-step into the border zone and potential serious issues with the Russian border police, make sure to plan your travel in advance, based on sound advice from experienced people in the region. If you're able to have a local guide with you from a tour agency to ensure you don't have any issues close to the border, this is ideal. If you do want to visit one of the more remote regions of Dagestan in the border zone, you'll need to request a permit at least 60 days in advance through official avenues in Dagestan. This is best done via a local guide or tour agency.
9.  What should I know about Dagestan to avoid any cultural faux pas?
Respect for the local culture is paramount wherever one may travel around the world, and Dagestan is no exception. Remember that Dagestan is a relatively conservative republic and quite religious in certain parts, and so modest dress is greatly appreciated. For men, this means wearing pants in public (no shorts!). For women, this means primarily wearing knee-length loose-fitting skirts as well as loose-fitting shirts that aren't revealing. Local people notice when guests/tourists make an effort to respect their traditions, and that generous spirit will be reciprocated by your hosts.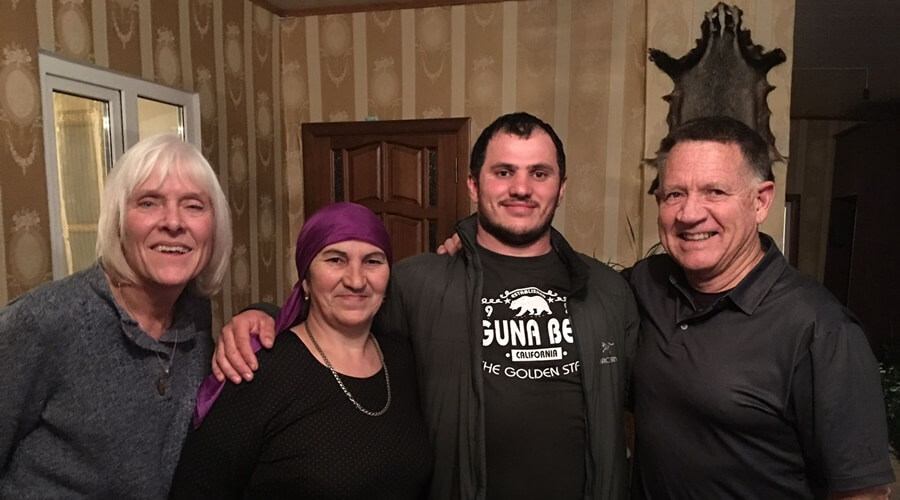 What are you waiting for? Dagestan is waiting! Enjoy your visit to Russia's Wild West!
To learn more in-depth about all Dagestan has to offer, check out some of these podcast episodes by CaucasTalk:
–Travel Tips to Dagestan – Interview with local guide Vlad
–The Dazzling Languages of Dagestan – Interview with Linguist Dr. Maria Polinsky
–Dagestan "In Their Own Words" – Interview with local Dagestani Hasan
–Sports in the North Caucasus – The history and culture of wrestling in Dagestan